<!START CUTTING AND PASTING AFTER THIS NOTE!>

Log for the week of August 31, 2003 New York by PS

Sorry to be so remiss in updating the log. Excuses, excuses, I know. When we were cruising, it seemed we had a lot more time on our hands. Life on land is as hectic as you want it to be and sometimes more. Just keeping the truck going is keeping me from being bored. New tailpipe, heater core, turn signal switch, etc. But I have no complaints. There is a satisfaction in keeping up your own equipment. You get to know it better then anyone.

And yes, Iwalani is for sale. For $95,000 you can own a boat that will take you anywhere in the world. She has been there and knows the way. We have Amy's 33 foot sloop to sail along the Maine coast. Besides, I would hate to see Iwalani on a mooring, only going out a few weekends a year. That's not what she was built for.

We finally accomplished the long over due visit to my parents. We had a break between work, visiting Amy's family and long drives to upstate New York to visit Nathaniel. I made reservations on the Cross Sound Ferry on-line and we headed down to Long Island on Tuesday for a four day visit. We planned to go crabbing with my father and spend a day in New York City.

Wednesday, we launched my dads boat, which I had built for him back in 1986, in the Carmen's River. Now for those of you who think Long Island is covered in condos and track housing, you will be surprised to know that the Carmen's River is protected for miles on each side by national wildlife refuge. Thanks to far sited individuals, including Denise Puleston, this river will always remain wild. As we brought two dozen blue claw crabs aboard, we took in the sights of nesting osprey, mute swans and the peace and tranquility the native Indians most have enjoyed years ago.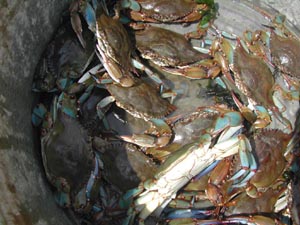 While our intention was to catch the early train to New York City on Thursday, our eyes were a bit too foggy to head in before 9am. I had purchased an Ipaq 3955 PocketPC on Ebay and was curious to see how many were in use. Well, if the 9 o'clock train was any example, only one person was using one and that was a Palm Pilot. I began to realize that there was a tactile difference between holding a newspaper and holding a piece of plastic. The PocketPC can display downloaded websites like the New York Times and Barron's. I was sure that people would be getting their news the high tech way. Guess again. Maybe in California..
Anyway, we disembarked at Penn Station and headed out of the underground and up into the light of day. We decided to walk the 50 or so blocks north to the Metropolitan Museum of Art. Now I know that we needed exercise, but 50 blocks is 50 blocks. Someone told me there were 10 blocks to a mile. I think it was an exaggeration to make me feel better about my sore legs.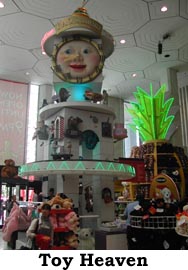 We arrived at noon time, after walking through a city that had only one cigarette butt to show for trash. I kid you not. There was no trash to be seen anywhere. No plastic bags, beer bottles, newspaper, nothing. The fire hydrants were polished to the point that you could see yourself in them. And it wasn't like we only saw a small part of the city that may have been cleaned up for tourists. It was amazing. Without prejudice or exaggeration, New York City was the cleanest city we have ever visited.
Amy had a friend that worked at the museum and I bet her 5 dollars that he would be there. She took me up on it and was surprised when she lost. She thought for sure he would be far from the maddening crowd on an approaching holiday. We ate in the trustee dining room and thoroughly enjoyed our time there. It was pointed out to me though that my bet actually cost me quite a bit as the lunch bill easily negated my five dollar winnings. Amy's friend took us on a 10 minute tour and then left us to our own devices. It's a large museum, comprising nine separate buildings and thousands of exhibits. We were soon dizzy. Seeking the fresh air and light of the sun, we headed outside. Our next stop was "afternoon tea" at the Plaza Hotel. The tea and scones gave us the false sense of energy that lulled us into thinking we would walk the fifty blocks back to Penn Station. Even though the subway entrances called out to us, we continued to walk.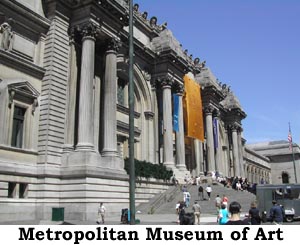 After numerous "breaks" (watching toy sailboats on the Central Park pond, sitting on a bench because it looked like it needed sitting on, leaning against a granite building to be sure it was real granite, not some Hollywood façade, etc. etc...) we arrived at Penn Station. Crowds of people were standing around TV monitors. For no apparent reason a dozen people would rush off in the same direction on a moments notice. After watching the proceedings, we caught on the system. When the train to your destination shows which track it arrives on, you rushed to that platform. Because trains come and go only minutes apart (we are talking about New York minutes) being on the correct platform is all important. When our turn came to rush to track 21, Amy missed the entrance completely and was headed to the underground mall. Not sure if she had changed her mind and decided to do some last minute shopping, I rushed to her side and guided her to safety. That is, to the correct platform. We really are two halves of a whole so when we get separated, it's chaos.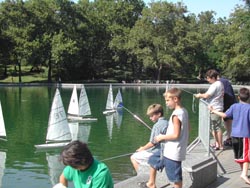 Friday, we visited with my sister and family friends. All in all, our stay was short but it was good to see everyone. It seemed to us that we were only gone for maybe a year at the most. But to my family, our three year circumnavigation seemed to take forever. It's now midnight and time for me to get some sleep. PS

<!END CUTTING AND PASTING BEFORE THIS NOTE!>