<!START CUTTING AND PASTING AFTER THIS NOTE!>

Log for the week of January 6th 2003 Durban South Africa by PS

The Waiting Game.

Happy New Year everyone. We sit in Durban with a favorable NE wind. It's supposed to be SW by Monday afternoon. If it isn't, I'll be in the doghouse. Amy wanted to leave on Sunday (today) but Fred said the window was too short. The next port for us is East London, 260nm away. It should take us about 36 hours, using the Agulhas Current to help us along. This is the longest stretch without shelter from a southerly "Buster". Even hugging the coast would be difficult because the current can be just a few miles from the shore. So we wait.

We started off the week successfully getting Iwalani back into the water and tied up at the Durban Marina. Then we tried to get Amy's urinary system back to normal. She tried various antimicrobials, without result. She couldn't even sit down. It was time to get outside help. We still had the rental car, so we headed to the Gateway Mall on the premise of dropping off Arnold at the Compaq Service Center. I spotted a hospital on the way and dragged Amy in. She really doesn't like hospitals. After jumping through the usual paperwork hoops, she was seen by the resident physician. He couldn't find an obvious problem.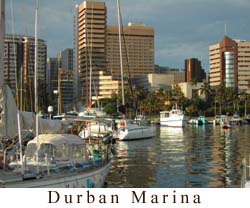 We went back on Thursday and got the test results. Still nothing obvious, except for some blood in the urine. He set up an appointment with a urologist for Friday. We also picked up Arnold. The service tech took Arnold apart and re-seated all the boards. Now there was a new problem. Before Windows even started, an error message came up saying "Invalid VxD dynamic link call to device number 3 service B." He substituted a different hard drive and Arnold started up in "Safe Mode." He said we needed a new hard drive. Well, my opinion of his skill was gauged by the fact that he didn't know what "device number 3" was or the keyboard shortcut for the Start Menu, so he could shut down Windows. "Where's the Windows Key?" he asked. (Compaq, in its infinite wisdom, didn't include one on their keyboard, along with numerous other faults. Don't get me started!) This happened once before, while Amy was on the phone for tech support last year. What do they teach these people?
News Years Eve found me at the nav station ready to do battle. Now, I know that I've sworn off fixing Arnold but...
For those of you not interested in computer stuff, feel free to skip this paragraph. For the rest of you, I'll go into a bit of detail on how I managed to do what the Compaq Service Centers in South Africa, Australia and the USA could not. Remember that I'm the kind of person who doesn't like to hear the words "It can't be done." First, when Windows tries to start and encounters an error, the next time it starts it skips over that step. What this means is that when I started Arnold for the second time, I managed to get to "Safe Mode." So much for the techs "New Hard Drive" theory. Now Windows also writes a "Startup Log". I checked the log and discovered that "device number 3" was the CMOS clock. Ha! That was what was giving us the problem before we took him in to the service center. What to do next? After saving the few files we hadn't back up, I reformatted the hard drive. By 2am in the New Year, I loaded Windows 98 and got to the stage of "Windows is starting for the first time." The screen went blank except for the message "Invalid VxD dynamic... " Aggg. I went to bed seemingly defeated. While trying to get to sleep, I remembered that the substitute hard drive the tech used was Windows 95. I decided to try loading 95 after a few hours of sleep. Still no luck. When I installed the new hard drive in Australia, I didn't include a diagnostics sector; thus I couldn't access the diagnostics program on startup. I did manage to have it on a floppy disc. After running a check on the RAM, I had the answer. The RAM in slot 2 didn't pass the noise test. Arnold came with one 64meg card and we added a second 64meg card from Staples before we left the States. Why didn't any of the Compaq Service Centers run the diagnostics? You tell me. Compaq didn't label the slots, so of course I pulled the wrong one the first time. After removing the original Compaq card (which was bad) Arnold was back up and running with no signs of trouble. Even his mouse problem was solved. Now, if I could only get a diploma for self-taught computer diagnostics, maybe someone would hire me.
Amy saw the urologist on Friday. He didn't find anything, so she had more tests. This time, she had to run up and down four flights of stairs for ten minutes, before giving a urine sample. The other choice was to do jumping jacks in the bathroom for ten minutes. Evidently, they wanted to stir things up first. She was running down, but walking up towards the end of the ten minutes. I watched from various floor landings, just to confuse her on which floor she was actually on. It would be a few days before we would get the results.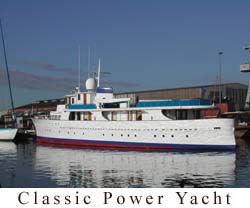 We decided to clear out on Friday, in case the weather looked good over the weekend. It's a good thing we had a car because we had to cover several kilometers once again. We plan to add a section to the web page covering check-in procedures in various countries, including maps and the correct sequence. So far South Africa is the worst. It's like clearing in and out of the country between every port.
It's my turn for "The Best and Worst of 2002" so here goes.
Five Top Equipment Performers:
1)Lee Sails
2)Furuno Radar
3)Maxwell Windless
4)Home-made weather satellite receiver
5)Simac ice cream maker
Five Worst:
1)Compaq Armada 7800 laptop "Arnold"
2)Wilcox Crittenden "Admiral" toilet
3)Spectra Watermaker
4)Nikon CoolPix 885 digital camera
5)Raw water pump for the Westerbeke
Best Piece of Advice:
Jimmy Cornell's mention of the "Annoying Cross Swell of the Southern Indian Ocean."
Worst piece of Advice:
"Put Stewart to sleep"
Best Restaurant:
Retro Café Sydney, Australia
Worst Restaurant:
Havens Takeaway Durban, South Africa
Best Movie:
Rabbit Proof Fence
Worst Movie:
In the Bedroom
Best Book:
Upgrading and Repairing PCs
Best Anchorage:
Cocos Keeling
Worst Anchorage:
Tulear, Madagascar (Only because it is not really an anchorage!)
Best Marina:
Coff's Harbour, Australia
That's it for this week. Hope you all have a good New Year. PS
Log for the week of January 12, 2002 Durban South Africa by APW
Still in Durban. As painful as it is to write, it's even more painful to experience. I have to admit, I am starting to get a bad attitude. Last Year's New Year's resolution was to stop whingeing. I didn't make that resolution this year. Last week we were still waiting for a weather window. The local forecasts all predicted a southwesterly wind arriving, sometime Sunday night, leaving us with a 48-hour window. I figure it will take Iwalani 32 hours to make the 256 miles, if Ahab is at the helm, that is assuming we ride the current down. Of course the Southwester didn't arrive until late Monday night. We would have had plenty of time to get to East London. It's easy being a Monday morning weather forecaster. For the rest of the week we bided our time doing projects that had been on the back burner. I worked on my book and Phil worked on the slide show he is creating for family and friends when we return. It was cold and raining and yes, the wind was blowing hard from the Southwest- finally.
By Thursday, the weather started to look good for leaving on Friday. Again another Friday departure. The ultimate crows nest, Phil's mix-master satellite antenna, showed clear skies all around the cape, the weather faxes all looked good and Fred from Peri Peri radio said we had a good window. All of a sudden we had three other yachties knocking on our hull for weather information- a German with too much caffeine in his system, a happy go lucky Frenchman and a cheerfully exuberant Spaniard. The German was convinced we all had to leave while the wind was still blowing out of the SW, while the barometer was rising. All of us had filed a flight plan with port control the week before. Whether we had to re-file our flight plans was open to dockside debate. Nevertheless, we still owed the marina some money. I was first into the marina office to settle our account. Now from my writing it might sound like I am a tough, pushy, out-of-my-way-type American woman. In real life I am actually the invisible woman. People meet me one week and have the pleasure of meeting me all over again the following week. I would have made one hell of a CIA agent. When I walk down the street people literally run right over me. When I went into the office I politely waited at the counter for them to figure out our bill. The young slim, secretary dropped our file on the desk when she heard the dinger for the microwave go off. She went to check on the cup of tea she was brewing. A man came in to the office looking for the yacht "Seasprite". The older secretary started looking through her files to find where it was berthed. The young secretary started to help her.
I shook off my invisibility cloak, with a polite clearing of the throat. Fortunately the older secretary recognized that I was still waiting to pay my bill and began chastising the younger secretary. ( I had gone through this whole scenario at the Zululand yacht club. Only there I stood at the counter for forty five minutes before the secretaries finally realized I was waiting to pay our bill.) I asked whether we had to refile our flight plan. The older secretary phoned the harbormaster and yes indeed- the flight plan was over one week old. 'Things could change in one week- new crew, hull color, you name it.' I told the woman everything was exactly the same form one week ago. 'You also did not write the date correctly on your flight plan.'
(I happen to know that I wrote the date out- January 4, 2003 because the American system of writing the date, 01/04/03, is not shared by any other country. Which is a shame because it actually is a much better system, especially for accessing files in the computer)
"You must realize" she said in her best look down the nose voice, "That these flight plans are designed to protect you yachties. The Agulhas current is very, very dangerous. This part of the coast is very dangerous. How else are the authorities going to know what to look for if you are sinking" "First of all, if we were sinking, the authorities would be the last person I would call for assistance. If they can't manage their paperwork and continually trip over the power cord when broadcasting weather faxes, how on earth are they going to handle a real emergency?" I actually didn't say that. My quiver may hold sharpened pen nibs, but my mouth suffers from lip paralysis when asked to shoot out sharpened retorts. I also happen to know that the clearing in and clearing out process within ports of South Africa was designed to stop the flow of cash out of the country when apartheid ended. It has nothing to do with safety.
"But, there are at least five other yachts all wanting to leave. We must all trudge around the city to refile the flight plan?" I finally asked, trying to keep my voice from whining.
"That is the system" she said matter-of-factly.
I returned to the nervous huddle of yachties, with the news that we all had to re-file our flight plan.
"Look, this is ridiculous." said the German, "The marina manager told me we didn't have to."
"Well the marina office, just called port control and they told me we had to"
"No we don't"
"Yes, we do"
If I had braids, I am sure he would have been tempted to pull them. The caffeinated German, exuberant Spaniard and happy-go lucky- Frenchman all fled off in a swarm to the marina office. A few minutes later they all emerged smiling and triumphant. They had managed to convince the authorities that our flight plans were still good. De'tente managed to change what a woman couldn't.
Which basically sums up my frustration with South Africa so far. Women are light years behind women in the US and I can't actually figure out why. Maybe I live with blinders on in Maine, but I have never experienced a shred of sexism in my profession, or with anything else for that matter. If people have confidence in their own abilities they don't question the abilities of others. A real Mainer, (which I am not, unfortunately) is about the toughest bird on the planet. It is only when people are unsure of themselves that they wonder about the qualifications of others. Here, they are continually confused about my name.
"You are Mrs. Wood?"
"No, Mrs. Wood is my mother, I am Dr. Wood."
"And this is Mr. Wood, your husband?"
"No he is Mr. Shelton, my husband"
"You are the third American I have met with a different name. Why must you American's make things so complicated?"
No answer for that one.
The exuberant German was the first to head out to sea, bucking against the Southwester, continually eyeing the barometer. Next the Spaniard, who arrived back at the dock under tow, a short time later having shot his prop shaft into the mud when he put his boat in reverse. He will be down for the count for awhile. The Frenchman and Iwalani decided to wait until the SW wind dropped off a bit and the rain stopped. This looked like a big window.
We left once the sun came out. We used the autopilot from the start, to test Phil's soldering job on the ground wire from the fluxgate compass to the display computer. So far so good. As soon as we passed around the breakwater and headed South, the "No Data" error came up, with the non-stop beeping alarm. When this happens the control arm on the push rod goes nuts and the rudder starts swinging erratically. The autopilot worked fine for all directions but South. We both looked at one another-"Friday!"
I got on the cell phone and ordered another fluxgate compass before we were even back at the dock. The dealer had never heard of this problem, but didn't think it was the compass. The next day we installed the new compass and headed out into Durban harbor to test it. Around and around we went in circles to check the deviation of the new compass. It was way off. The old compass had been way off too, when we were in Maine, but Phil opted to ignore it, saying we wouldn't be using the fluxgate to navigate, just to steer. Could it be that after two years this error was now biting us? The variation in the dealer set up was also way off. Instead of 12E, or -12, as was in the set-up from the inputs we put in New Caledonia, we now have a variation of 25W in South Africa- quite a discrepancy. (The deviation is magnetic factors within the boat, which affect a compass; the variation is magnetic anomalies outside the boat.) Could the deviation and variation together being so far off, add up to such an error that on a due south heading the autopilot's brain temporarily got fried? I reset the variation and Phil moved the compass behind the bulkhead. I continued to steer the boat in wide circles in Durban harbor avoiding tugs, container ships, cruise ships, dinghy racers and booze cruise boats, as we re-swung the compass. The new compass position gave us a much smaller deviation, but it was still above what the book recommended. However, the autopilot now seemed to be working fine.
So, now what to do? It was 2:30 Saturday afternoon- the next Southwester was predicted to come late Sunday night. I looked at the satellite image and saw nothing for at least three more days.
"We have to wait for the next weather window." Phil said.
"But the satellite looks good" I said.
"If you want to get a job with the South African weather service, be my guest! Just leave me at the dock."
I looked at the calendar, it was an odd numbered day, so I actually had the power to make the ultimate decision as I am the odd-ball captain. I swung Iwalani in another circle while I tried to decide.
"You know, Amy, this is the Agulhas, we made the decision not to take any unnecessary risks."
I guess it was the fact that Phil called me Amy and used the word Agulhas, a name that started long ago shivering my timbers, when we were first preparing for this trip, that finally cracked my confidence. We also got some email from a reader, wondering why Iwalani always seemed to have bad weather. In all honesty, we have had a few bad moments, but they quickly get forgotten. I can't actually say we've had a lot of bad weather. But this particular stretch of the African coast has been known to snap huge ships in half or fold up others like an accordion. The autopilot was still steering us around in circles, with no problems. I decided I didn't want to be out there with my husband saying I told you so, nor did I want to hear from another reader about why we didn't wait- so I eventually turned into the marina. Again. If Phil didn't have two small boys and I was by myself I would have kept going, I have that much faith in Phil's satellite antenna...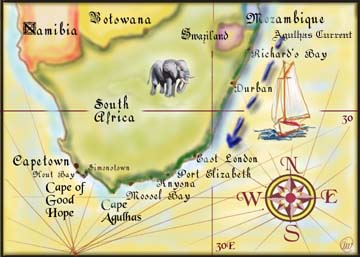 So of course it is now Monday afternoon- it's been blowing from the Northeast for three days now and there is a gale warning for tomorrow with a Southwesterly. It could come, I suppose, the satellite does show a huge mess South of the Cape. But, while we've been waiting, Phil has managed to sand and paint the hull, sand and repaint the dinghy and I've gotten a lot of work done on the computer.
Durban really isn't so bad. It's filled with noise and moving boom boxes- van's which fill up with people all moving up and down in unison from the woofers in the stereo system. The sidewalks have been decorated with very pretty tile mosaics and the cha-cha pigeon sings every morning not far from the boat. This bird actually sings the song of the Congo line dance.
Cha Cha Cha-Cha Cha! CHA!
My only complaint is the false advertising on everything. Signs are confusing and you can never really believe the packaging for anything. South African supermarkets have long isles devoted entirely to super sweet liquid candy fruit juices. But not one ounce of mouth puckering grapefruit juice or cranberry juice can be found. I did manage to buy a bottle of cranberry juice which says "100% real fruit juice". In small print it says there actually is no cranberry juice- just 100% real apple, grape, pear and all natural real red food coloring. How's a person supposed to get rid of "passage mouth?"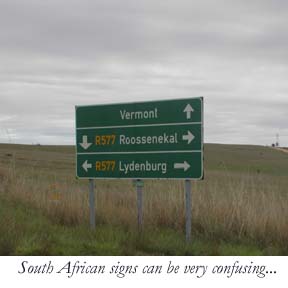 I asked one shopkeeper where the coffee was and was led to another long isle of coffee crystals. Just add water and Voila! Coffee?
"What about beans?" I asked.
He led me over to the canned pinto, baked, garbanzo and string varieties.
"No, coffee beans!! Doesn't anyone drink coffee?" Back we went to the brown crystals.
Ok I am a snob. I admit it. Corporate food is only good when the wind is blowing over thirty knots and you're at sea, but depending on which forecaster you believe, that won't be for awhile... APW
Log for the week of January 19, 2003 East London, South Africa by PS
We have finally loosened our grip on Durban. It's funny how you can settle in and get comfortable with shore life. Step off the boat and walk to the movie theater, rent some DVD's and buy a cell phone. Read "Spend money." The rented cell phone was getting a bit pricey. We only intended to rent it for a couple of weeks. It was time to return it and do without, or buy a new one. Not all cell phones are alike. The one we rented taught us a few things about wireless technology. SMS and tri-band to be exact. Short Message Service allows us to send and receive e-mail text messages for 8 cents US. You read that correctly, 8 cents US for a 160 character message. And because we are on "Pay as you go." there are no addition contract costs or cancellation penalties. By using a SIM card, we are able to go to any country and get onto their network. Even the US (we hope). We needed a tri-band phone so we could use it back in the US. It seems that the US shot itself in the foot when they allocated the 900 mega hertz frequency for cordless phones, while the rest of the world (except the UK) uses 900 MHz for cell phones. Now the US has to use 1900 MHz. Go figure. We also have different electrical current and units of measurement. Might as well keep up the trend.
We asked around at the various phone shops, which by the way are the most numerous shops to be found in Durban, to see what phone they recommended. The unanimous vote was for the Nokia 6310i. Ahh but the price. 7,000 rand ($700 US). Ouch! Some quick research on the internet revealed a cost of $350 US. On the way back to the boat we stopped at a phone shop to see what kind of deal we could get. They just happened to have a 6310i and guaranteed it was a genuine Nokia product, not some Asian knock-off. And the price was about the same as the internet price. The shopkeeper spent lots of time getting us hooked up and running. He also got us paranoid, once again, about walking out of the store with the most expensive phone he had. I put the phone in my pocket and the excess packaging in Amy's back pack. We headed back to the boat, taking a random circuitous route, looking over our shoulders to see if we were being followed. In this country, people have been shot for their cell phones.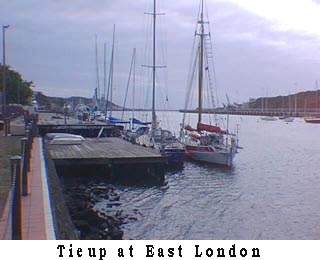 The remainder of our week was spent wandering around the local shopping mall trying to find our way out and watching the weather. I think malls are purposely designed to get you lost, so you wander around and spend more money. Amy did find a pet store that could supply us with a gecko. This small lizard was going to do for us what no man made poison could seem to do. As soon as we got him on board, Amy tried to pick him up. Was she in for a surprise. Despite the fact that she had learned in vet school that a lizards defense mechanism is to lose its tail, the shock of seeing a tail flailing about without its owner almost gave her a heart attack. She fixated on the wiggling tail, which is exactly what is supposed to happen. It took her the rest of the day to re-gain her composure. When we first bought him, we named him Peri Peri. Now we call him is Stumpy.
The weather was the topic of the week. Could we possibly find another window long enough to get us to East London? We had certinally missed a good one, thanks to the errant auto-pilot. I plan to e-mail Raymarine and ask them to add an option to their "No Data" error list. ''Check the dealer setup and be sure the variation setting is correct." Somehow, I don't thing Raymarine expects their equipment to sail around the world. It turns out that another cruiser is having the exact same symptoms with his Autohelm auto pilot. I explained how to correct the variation and am curious to see if this solves his problem as well.
According to Fred and Alistar, a two day window would start on Friday. Why Friday? After clearing out for a second time ("You must leave this time." the port captain said.) we cast off our lines at 1500. "We are just going to check out the auto pilot." we told our neighbors, not wanting to jinx things. We did a preliminary test in the harbor, then headed out once again. Thanks to the changes Amy made in the dealer settings of the auto-pilot, there were no more "NoData" error messages. There was a light wind from the north-east, so we motor-sailed. We managed to find the current at the 200 meter line and were able to do between 7 and 9.5 knots over the ground. By 0400 on Sunday, we were tied up to the quay in East London. We had put 260nm behind us in about 36 hours. A south-westerly, blowing 20-30 knots, is expected Monday. The satellite pictures show a well organized front coming across from Capetown. It looks like it will arrive late Monday, early Tuesday. Amy puts all her faith in the picture. I guess I should too. We'll see if we can predict better than the professionals.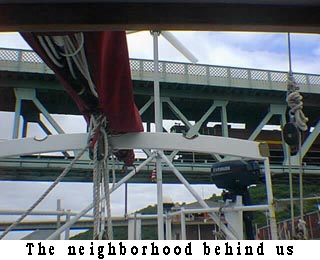 Here's a tip for those of you with a "Skipper" WC. If the pump is sticking, try pouring some automobile anti-freeze into the bowl and leave the pump handle pulled all the way back. Let it sit overnight. This seems to remove the corrosion on the pump cylinder wall and keeps the piston from sticking. Be sure to leave the handle pulled back when it's not being used.
That's all for this week. PS
Log for the week of January 26, 2002 East London and Port Elizabeth South Africa by APW
As soon as we rounded the bend and headed for East London, the air became drier and easier to breathe. In Durban, even the sun perspires. We had an uneventful trip to East London motor-sailing most of the way and picking up a four knot boost from the Agulhas Current. At one point, Iwalani was going 10 knots. I should have taken a picture of the GPS, as it was probably a once in a lifetime occurrence.
I had been expecting a noisy tie up, but was pleasantly surprised. We were the only cruising yacht and many of the shore side eateries had gone out of business. The Buffalo River is a well-protected, quiet place to stay. Latimer's Landing is still carrying the patina of being the first landfall for the mighty coelacanth, but it appears that not too many people are excited about visiting this historic spot.
Our main objective in East London was to re-new our visas which were due to expire in two days. For some reason the immigration people in Richard's Bay gave us two month, instead of three month, visas. Immigration in Durban after much head scratching and finger counting told us that we did have three month visas but we would have to pay ninety dollars to get them renewed, preferrably at the airport. We hoped for better help in East London. Immigration in East London said that they could clear us out and since we were on a yacht, immigration in the next port would just clear us in again- and to make sure we got a three month visas the next time around. So, theoretically if someone is on a yacht, they can stay indefinitely in South Africa as long as they go to a new port every three months. That paper work accomplished, our next mission was to visit the museum, which was behind the classification and publicizing of the coelacanth- the fossilized prehistoric fish that surprised the world by actually being alive and well, swimming around off the coast of South Africa. But first we had to get to the museum. We walked past many old Mercedes taxis, the driver and front seat meshing into indistinguishable lump of flesh and worn seat cushion. I looked longingly at them as we walked by. "You'll end up looking like them, we need the exercise." Phil kept drilling into my head.
Seven kilometers later we made it to the museum and spent the rest of the morning looking at beads, "scurfy" stuffed animals, shells, shipwrecks and the highlight- the exhibit on the coelacanth. It was pretty good if you are in to that sort of thing. A local fisherman named Captain Goosen caught the fish in 1939 off of East London in a trawl. The museum goes into great detail describing each moment of this historic event, including a graphic display of the actual route the trawler took on its momentous expedition, as well as the cart that carried the fish to the museum- or one that was like it any ways. Courtney Latimer was the female museum curator who wrote her superiors "I had the most queer looking specimen brought to notice today. The Captain of the trawler told me about it so I immediately set off to see the specimen which (sic) I had removed to our taxidermist as soon as I could. It was trawled off Chulmoa coast at about 40 fathoms. It is coated in scales almost armor like. The fins resemble limbs and are scaled right up to a fringe filament." So the fish became known as Latimeria. Captain Goosen never even gets a footnote in history.
The next day, Phil spent the better part of the morning helping a young couple get their internet cafe up and running in the hope that we would be able to upload the log in the afternoon. No such luck, they had really noisy phone lines and the connection kept getting dropped. We found another cafe the following day and while Phil was working on the computer, I spent my time talking to a local character about the Xhosa people. This trip has made me reconsider my beliefs about humans. I am sure I will get a lot of flak about my current ramblings, but I realize now that there are differences in people, which extend beyond where you are from. The old nature vs. nurture argument. I always thought humans were all the same. A Texan was different from a New Englander only in the way they talked. Humans are not like dogs or cats with different breeds, or are they? Do tribal differences extend beyond beliefs into fundamental differences in DNA? The Xhosa are as different from Zulus as a Texan is from a Vermonter.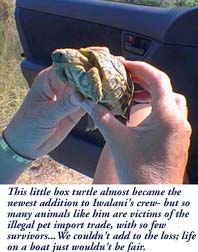 Up North in Zululand, it seems to me that women did everything. They are the world's experts at multitasking. I never saw a woman "doing nothing". They were always carrying water, working the fields, weaving baskets, collecting firewood, taking care of children or doing all five at once. The men seem to be hanging around waiting. Waiting for what I have no idea. If Phil walked down the street carrying shopping bags, he invariably got cat calls from all women passing by, even in New London the women were still hooting and hollering at him.
South Africa has no welfare system. The people we have talked are sharply divided on this issue. Half think that they pay enough in taxes and the people don't work enough as it is. The other half think it would be a good thing and would cut down on crime. Some of the people in the first group are the same people who pay their workers the equivalent of $4.00 an day and don't provide transportation to their workplace. The mass exoduses of people we have seen walking along the highway are people going to and from work, sometimes walking very long distances. We met some people that had to walk sixteen kilometers one way just to get to work. Its no wonder they fall asleep on the job. With little money to buy nutritious food how can they function properly? I was dead tired after just walking fourteen kilometers to and from the museum. I can't imaging walking that distance to get to work, have nothing for lunch, then walk that distance back home. It would not be worth it, if at the end of the day you only got four dollars. For the half that think they pay a lot already, there is no doubt of that- it appears that licenses must be had for just about every activity. Owning a television set requires a license. Living requires an identity card, which is different from a driver's license. Even South African yachties have sailing classification schemes and ratings that I have yet to figure out.
East Londoners seem different than their Northern counterparts. There are little to no "step-overs", the people that lie in various states of decay under bushes and along sidewalks. Everyone is cheerful and more animated. Maybe it's the drier climate, or perhaps even my imagination. But the pastel buildings seem brighter and more vibrant too.
On Thursday we got the go- ahead from Fred on Peri-Peri radio (8297 at 0500UTC, 8101 at 1500UTC) to continue south. We motor-sailed making about 7 knots in light south easterlies. On Friday afternoon we arrived in Port Elizabeth.
We had called ahead with the cell phone and had a car and berth ready for us as soon as we arrived. Saturday afternoon and Sunday, everything, and I mean everything in South Africa shuts up tighter than the lips of Sadam's scientists. We still had to check in with the yacht club ladies, a process I have come to dread. We walked up to the counter and the usual pince-nezed woman was safely locked behind the usual bulletproof glass window trying to protect herself from us, the usual yachties. I inhaled deeply prepared for the usual unpleasant scenario. Wasn't I surprised when the woman actually helped me by drawing a map and acted like we yachties were not really the scourges of the earth. The tourist books all call Port Elizabeth the friendly city so maybe she had a reputation to live up to. A key is required to get in to and out of the walk-ons for the marina. Yachties are literally prisoners on their own boats. We were told that we couldn't park our car in the yacht club parking lot, as it would be stripped. So we had to park inside the yacht club compound, but unfortunately, there were no more keys for that particular gate. Crime she said is a problem. The wife of the cheerful Frenchman(see log for Jan Durban) was attacked and mugged just days before our arrival on her way to the grocery store. Friendly city?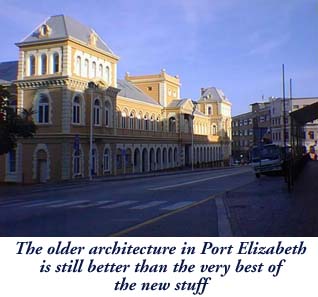 Phil and I drove around town in search of a laundromat. None to be found, they just don't exist in all of South Africa. Nor could we find a laundry service. (The latter has to be the best bargain in all of South Africa.) I had signed a form at the yacht club promising that I wouldn't sue them if their rickety docks broke apart and Iwalani smashed into other boats, and that we would not hang clothes from our rigging. It appeared that I would have to renege on our part about the clothes. The worst thing that could happen would be them sicking the pince-nez lady at me, or so I thought.
We found another mall out at the tourist end of Recife Point and had sushi at a Japanese restaurant then went to a movie. It is too bad that I am not into shopping as South Africans have without a doubt created the best shopping malls of anywhere on the planet. I usually suffer from claustrophobia in these places and reduce down to a blithering zombie. Two in Durban, the Gateway and most especially the Pavilion, a mini version of Ali Baba land, have actually created a space that is architecturally almost nice. Lots of glass domes with natural light, fountains and acres of marble. The one in Port Elizabeth, The Boardwalk, had a central pond and wooden walkway surrounded by small shops looking out at the pond which was alive with chanting frogs. These malls are all sort of like Disneyland for shoppers. They also appear to be the safest places for hordes of people. Once South Africa discovers the mega shopping centers for office or building supplies. I wonder how the architects will be able to incorporate those monstrosities into their designs. But, in terms of modern day malls, what's coming out of South Africa is the best we've seen on this trip, so far.
Sunday we drove out to the Addo elephant park, mostly because it was the only thing that was open. We saw plenty of elephants and followed one herd to a dam where a bunch of tourists were parked on an overlook above the elephants. The humans were all busy blabbing away, smoking cigarettes and otherwise defiling the scenery, while the elephants were down below drinking and squirting water onto their backs and otherwise defiling the water source. The oldest bull, which didn't look that old actually, roared like a lion if another bull came too near his space. I could have stood there for days watching the interactions between the elephant groups. Each time another group approached the water hole, one leader from each group, designated as lead spokesperson said "HOO" or perhaps it was "who?"The elephant version of "hey what's happening?"
Humans have inadvertently genetically modified these Cape elephants. The females for the most part lack tusks, which is why they survived the slaughter of the game hunters. Why shoot an elephant that doesn't have tusks? So, the tusk-less gene has been passed on in this somewhat small gene pool. We watched while one rather amorous fellow followed an unwilling female for miles. Two young British girls asked their Calabash tour guide, "What was that elephant doing?" In between setting his customer's plates down with silver cutlery and candles, he answered the girls that "They were just playing." (Tripping over his fifth leg is more like it.) Interestingly enough, musth season apparently occurs in the springtime of the Southern hemisphere. This period, much like Super-bowl-Sunday, results in an overabundance of testosterone. Several of the game parks, including Umfolozi, were discovering that their bull elephant's musth seasons were extending out too long, resulting in too many aggressive bulls. The bulls were picking fights with everyone including the white rhinos, which had only recently started to make a come back. It was only after they introduced old Kruger Park mature bulls, that things started to go back to normal. Maybe there is a more happening with today's single moms and their teenage boys than meets the eye.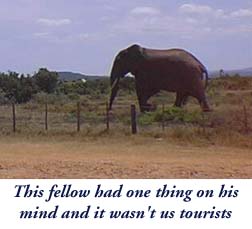 After awhile, the elephant still chasing his unwilling paramour, disappeared from view, or so it would have appeared. Elephants can be so quiet that fifty people all standing in a line perched overlooking the ledge, failed to notice that the amorous pair had doubled back and were "walking?"through the parking lot, just a few feet behind them! That's it for this week. Our good camera is still at the hospital, where it looks like it will be for a while. APW

<!END CUTTING AND PASTING BEFORE THIS NOTE!>