<!START CUTTING AND PASTING AFTER THIS NOTE!>

Log for the week of July 6, 2003 Stowe Vermont by PS

Getting back on our feet is still a challenging part of our lives. We have gone from the boredom of passages to the super stimulation of life on land. Getting machinery running, finding jobs, working on gardens, getting Iwalani ready to sell, updating the web site and organizing slide shows keep our neurons busy. No complaints from me.

Amy made arrangments to show Iwalani at the Wooden Boat Show in Rockland, Maine from July 18th to the 21st. If you are in the area and want to see Iwalani, stop by.

There are a few items concerning equipment that need to be added to my last log.

Flawless:

1)Caframo 12 volt fans

2)Racor 500 fuel filter

3)Sta-Lok terminal ends

4)Nautix green anti-fouling paint. Made in France

5)Evinrude 5 hp outboard

Almost flawless:

1)Nikon Cool Pix 885 digital camera (Had to be sent back for repair twice for a stuck aperture)

2)Epson Stylus 750 color printer (Started giving us trouble in South Africa. Picture images had pink background. No one could repair it)

Fatally flawed:

1)Micron CSC green anti-fouling(Iwalani's bottom was completely covered in gooseneck barnacles by the time we reached the Marquesa's. This was less than four months since we last applied it in St. Augustine, Florida)

As far as the rest of our lives go, we are at Amy's parent's and are returning to Maine tomorrow. Spending time with family is a nice way to escape the chores at home. It gave us a chance to share our trip firsthand and sort our thousands of slide pictures. I did a presentation of my Power Point slide show and overwhelmed the audience with too many images. I've decided to break up the presentations into several categories: general audience, yacht owners, history, wildlife and people. It's the only way I can cover three years in 30 minutes! That's all for this week. PS

Log for the week of July 27, 2003 North Haven Maine by APW




For some reason time has started moving at a meteoric pace. Phil and I are both equally remiss for not writing our logs. We are at my family's summer place on North Haven Island. It is a vacation from our vacation. Bushes are loaded with raspberries, stripers are swimming in Pulpit harbor, mussels are lurking in very cold water under rockweed reluctantly waiting to be plucked off submerged rocks. Mosquitoes are infrequent visitors to this island, ospreys and bald eagles commonplace. The days are cool, the nights are cold. This is paradise.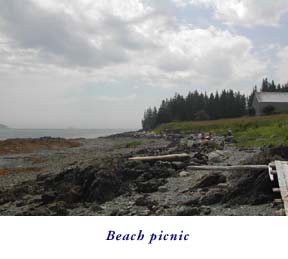 We had one week of rain and fog where I sat blissfully indoors writing the first fifteen pages of my book. The middle of the southern Indian Ocean was the last place we didn't see searing sun and blue skies day after day. Living in a place that is always sunny and hot is just as boring as living in a place that rains all the time. A variable climate is perhaps the most valuable trait on this planet.
For the past two weeks, before we came to North Haven, we'd been taking truckloads of stuff off of Iwalani. We have put it all in the garage where it will stay for one winter. Its not the tropical cockroaches I am worried about, but the tiny little book bugs we picked up in South Carolina and ports beyond. They appear to be some sort of mite and I do not want them to move into the house books. The cockroaches have departed for points south and heavenward. I cheated on Iwalani and used sugar drops laced with Fipronyl, an insecticide sold for disposing of ants- which more than killed the remaining cockroaches. I have not seen, nor head from our two liveaboard geckos. I hope I didn't kill them too.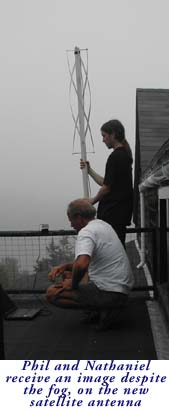 Phil has been climbing trees and rooftops and we have taken many hikes up the hill behind our house in Georgetown in search of a way to get high speed internet access to the house via wireless radio. DSL and cable internet are unavailable. We are told that is the price we must pay for living at the end of the earth- satellite isn't a possibility. The only company that will talk to us is Directway- and they are asynchronous (we couldn't run our own web server). Other satellite company's are expensive. $5,000 for the hardware and $300 a month for limited data transfers. Our dream of getting home and setting up a server at our house and providing free e-books to the world is facing the harsh reality of life in America. Who said we are at the top of the food chain? Phil has calmed down somewhat over the state of US cell phone technology. It has made no improvements since we left three years ago. His Nokia tri-band phone works in a few cities but no where else. Not many people have a clue about SMS's, so he just sends them to himself. We did get a sim card for the Nokia through AT&T. We have unlimited free calls on weekends and nights after nine. It only works if you stand in one spot of our driveway. Calls are kept short because of blood loss from mosquitoes. Phil has been talking about putting a little heated phone booth out in the driveway so he can sit out there with his beloved Nokia in the winter. The old Qualcom cell phone that we bought just as we were leaving the US is now being used with Verizon prepay cards. It has a better area of coverage- but the phone itself is a dinosaur. I got our first bill for our land based house phone and nearly fell over. It was close to seventy dollars and the only calls I made were to customs, agriculture and immigration!
We have been spoiled with high speed internet at atolls in the middle of nowhere, text messaging on the savannas of Africa and cheap easy to use phones in the outback of Australia. It seems a bit peculiar to me that the best place to get away from all the hustle and bustle of technology is here in the U.S.A. If I need to know what's happening in the rest of the world, I sit out in Iwalani and get news from the Inmarsat-C and SSB.
In fact, I missed the weather satellite antenna and receiver on Iwalani so much that Nathaniel made one for the house. I really miss the Inmarsat too. It was a great daily ritual- once a day sitting on my folding stool with Stewart in my lap while Phil read the news and weather. No advertisements and just the facts. He always ended the last entry with "And finally tonight" whether it was a morning, noon or evening reading. If he forgot to say it, Stewart got really upset that the reading was over with no advanced warning
We managed to get a little paint on Iwalani and get her to Rockland for the Wooden Boat magazine boat show. Thousands of people came on board and saw what twenty thousand miles of blue water will do to a boat and its crew. It was great seeing old friends and meeting the intrepid log sloggers, even if I did lose my voice.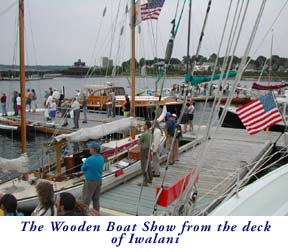 But it was sad seeing the death of Rockland. I got in an unpleasant argument in Samoa of all places, with another cruiser about the changes in Rockland. MBNA, the giant creditcard company moved in and cleaned house after we left in 2000. They built a darkly stained inconspicuous low building on the waterfront, richly landscaped with fir trees, roses and dayliliies. A boardwalk for pedestrians follows the shoreline. It is beautiful but totally sterile, just like an empire founded on credit. It has provided jobs I suppose, but the downtown itself is dead. The movie theater where the lady sold us her tickets in her pajamas is closed and boarded up. The IGA grocery store gone- hardware stores gone. No vets offices or family practitioners. Every weekend in the summer Rockland hosts a venue such as the Wooden boat show or the lobster festival. Rockland has become a great place for buying a painting, a scented candle or a lobster embossed t-shirt. I know I am hypocritical and deserve a tongue lashing as my paintings have hung in the very galleries I shake my head at. But when all of us are in our eighties and should be in a rocking chair, not the drivers seat of an automobile, we will regret killing these towns for tourist dollars. My Dad told me that Fordhams hardware in downtown Beaufort South Carolina is also closing. On the other hand, a new grocery store moved into downtown Bath Maine. It seems to be the last place on the east coast a cruiser can come to, drop anchor and do shopping for supplies on foot.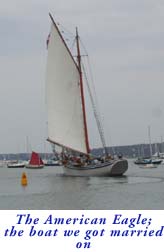 I had fears that the price we had set for Iwalani in south Africa- ($95,000) was too steep. After seeing a fellow at the wooden boat show ask $85,000 for a lobster boat at half our size, I realize our price is too low. If the boat doesn't sell by the end of the summer, we will be raising the price and making the equipment list shorter. Selling Iwalani will probably be one of the hardest things we have done- especially since I am starting to get itchy feet to explore the arctic. We just met some cruisers on a boat named Driver who have been North for the past few years. I had a 30$ phone conversation with the US agricultural inspector about cruising up north too. It sure sounds appealing for someone who can fill a coke can with sweat just standing in line at a bank in Suva.

But even these remote frozen regions of the earth are becoming filled with people. Our friends on "Northern Light" said that a few boats each year were going to Antarctica for the winter seasons. I can't imagine being that far away from anywhere- frozen in with another human for a neighbor.

In between writing, unloading and moving back into our house I really have been working on the cruising budget. So far I have spent fifty hours getting it organized. We saved every receipt for the past three years and I am sorting through all of them- thousands of tiny bits of paper that are fading beyond readability. It is taking me a lot longer than I could have imagined. I am also shocked and embarrassed at how we spent our money and am tempted to fudge the data- but I won't. I am sure that no one will be able to use our budget as a guide- because I can't believe that anyone would spend money in the same fashion we did. It looks like an eleven-year-old was Iwalani's bursar. Stewart would have done a better job spending our money. But we sure had fun.

No word from customs about our fines. I am getting nervous about it. I was told that they are taking the TV sets out of federal prisons-, which would pretty much make my incarceration not too different from the last three years. I had been looking forward to catching up on three years of Simpson's episodes.

The new and improved web page for worldvoyagers.com, almost ended up at the bottom of the clam flats outside the window. My computer Arnold, has "Sunbow's" small hardrive, very little RAM, and hungry PhotoShop keeps saying my "scratch discs are full." Isn't technology wonderful? APW


<!END CUTTING AND PASTING BEFORE THIS NOTE!>