Log for the week of December 22, 2002 Durban South Africa by PS.
This week the South African newspaper headlines read "Park Ranger killed by Elephant." Our encounter with elephants, at Umfolosi, took on a whole new dimension. The "dung beetle" rental car wouldn't have stood a chance. And we thought Australia was dangerous!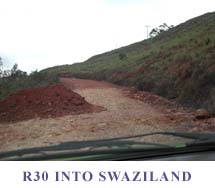 Monday, we drove to Swaziland, following Amy's instructions, until the road practically petered out and a four-wheel drive would have been a better mode of transportation. "Are you sure this is the right road?" I asked. "I think so." She replied. Once again I knew we were on an "Amy Tour." We agreed to turn around and head back to the tarred road. After re-checking the highway sign, we tried once again. I had complete faith in "Basil", after having climbed the mountain to Enkosini but that road was only 17 kilometers. This time we had to cover 45 kilometers. There were washouts, cliff edges without guardrails, narrow spots we barely fit through, fog as thick as custard and no other cars- we saw only one other vehicle. The rented cell phone was not in range of any towers either.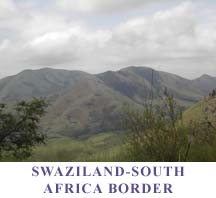 Finally, we saw a high, electrified fence. We thought we had reached the boundary of a game park. No, it was the Swaziland border. We came to a typical guardhouse and got our passports stamped out of South Africa. We passed through a sort of no-mans land and arrived at another guardhouse. Here we cleared into Swaziland and were asked if we could give two men a ride into town. They were officials of the border control, so it seemed safe enough. After clearing the back seat of our assorted junk, they squeezed themselves in. Our little "dung beetle" started to bulge.
The town was once a base for an asbestos mine. The only signs of life were a few people standing around the "store" and kids hitting golf balls on the deserted golf course. The mine had long since been shut down. It was a bit spooky to see hundreds of empty pastel colored houses. The men were grateful for the ride that saved them their usual 5-kilometer walk. It seems that not many people use this border crossing. Can you say "Amy Tour?"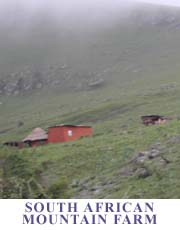 We found the people in Swaziland happier than in Kwazulu-Natal. Smiling more and looking up from their newspapers and waving to us as we drove by, while they waited in covered bus stops. Mercedes buses were everywhere filled to capacity, but more spacious than the South African Toyota van counterparts. The road took a turn for the better and we discovered we were approaching the king's residence. No wonder. The countryside took on a more natural look. No rows of planted trees in sight. This was surely a different country.
We decided to continue back into Kwazulu-Natal before the border crossing was closed at 10PM. Checking back in was a bit scary at night. Lots of big trucks, people milling around and poor lighting. We arrived back at the yacht club around 11PM without incident, but I wouldn't make it a routine to drive at night.
Amy's crown had fallen off (her tooth crown not her headdress), so we made an appointment to get it fixed on Wednesday afternoon. I offered to put it back on with some silicone, but she refused. We later heard, from the dentist, that someone tried to reattach their crown with crazy glue and ended up gluing their cheek to the tooth. Ouch!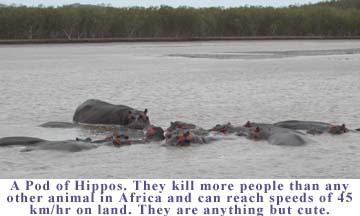 We had yet to see any hippos, so we headed to St Lucia Wednesday morning. The park offers a boat tour that covers more area than private tours are allowed, so we opted for the park tour. We were not disappointed. There were dozens of hippos, along with eagles and the world's largest heron.
On the drive back to the dentist, we decided to do some last minute Christmas shopping. We had seen some hand carved animals along the roadside and stopped to take a closer look. There were people with machetes chopping away under the shade of a tree. It was hard to believe how detailed someone can carve with such a tool. We bought several animals and felt much better supporting these "craftsmen under the trees" than some lacquer smelling tourist shop.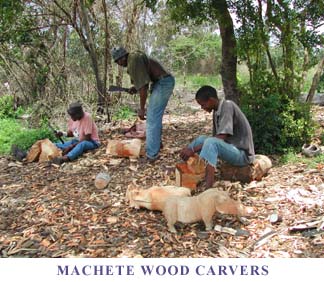 We checked the weather with Fred and Alistair on Thursday, and things looked good for a Friday departure, except for the day of the week. I had decided that sailing along the South African coast would be an exception to my "Never sail on a Friday" rule. We had to go when the weather window looked good.
After asking the people at the Zululand yacht club office for the procedure on checking out and being told to ask yachties on another boat, we floundered around for 4 hours jumping through all the official hoops. In South Africa, you must clear in and out of the country between ports. What a hassle. First you must get a "flight plan" and fill out two pages of questions like "What ports will you be visiting, when will you be there and for how long?" I felt like putting "Depends on the weather." Then you must visit immigration and have your passports checked and your "flight plan" stamped. Then you go to customs and they stamp your "flight plan". Then you have to get your "flight plan" to port control. All of which covers about 20 kilometers. We hear it's even worse in Durban. I can't wait.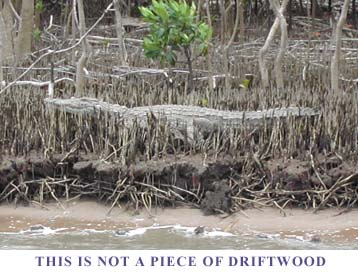 After returning "Dung Beetle Basil" to the airport, I arrived back at Iwalani around 5PM, just in time to catch the last of the high tide. I started the trusty Westerbeke and discovered that the alternator wasn't charging. What did I say about leaving on a Friday? Thanks to the error lights on the Lifeline regulator, we were able to diagnose the problem to a blown fuse in the voltage sensor line. After getting permission from Port Control to leave the harbour, we headed out. We motored out past the breakwaters steering by hand. If anyone was going to run Iwalani on the rocks it was going to be me, not some auto-pilot. This proved a mistake because when I finally turned it on "No Data" was on the display. "Why not?" I asked. Of course it couldn't tell me. Where's HAL when you need him. (From "2001 Space Odyssey")
We got out our back-up, 30 year old, "Tilley" but because we were under sail and motor, she couldn't cope. First she steered east then she headed south. Back and forth we went. The vision of hand steering Iwalani 100 miles to Durban was not a pleasant one. Amy wasn't bothered, but I was. It may have been the motion of the sea giving me an upset stomach, I'm not sure, but I knew this "Friday" thing was getting serious.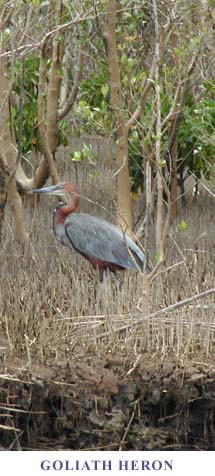 I removed the cover on the flux-gate compass, but didn't see anything amiss. I looked at the connections at the back of the display. All seemed in order. I began removing the connections one at a time. When I removed the ground wire the display quit, so I decided to have a closer look. You may recall that I soldered every electrical connection on Iwalani. It seems not all soldered connections are the same. They may look OK but... After closer examination, I noticed a tiny bit of green corrosion. I decided to hand crimp the remaining part of the fitting to the wire. With my fingers crossed, I reconnected it. The autopilot was back on line. Whew! I hate Fridays. Ships were not launched on Fridays because the workers had their minds on the upcoming weekend off, not the work at hand.
By 10AM on Saturday we were tied up the float dock in Durban. The Agulhas helped us cover the 100 miles of light north-easterly winds in less than 18 hours. Lets hope we can keep it working for us.
Sunday morning we had visitors from Durban. One of my students from the Apprenticeshop, Greg Fredricks, was originally from Durban. Over the past few weeks I had left a phone message and sent some e-mail to Greg, not sure if it had gotten through. I guess it did. After catching up on what Greg had been doing and our trip sailing three quarters of the way around the world, Martin and Mo were kind enough to invite us to their home for Christmas Dinner.
When it rains it pours. Fred (the SSB weather guru) said he and his wife Eva would be visiting us on Sunday morning. In anticipation of their visit and to celebrate defeating the Friday evil spirits, I made some "Sticky Buns." I'm not sure if it was the buns or the freshly ground coffee, but they invited us to their home for Christmas Eve Dinner. We suddenly went from loners at sea, to the social butterflies of Durban. I only hope that someday we can extend such hospitality.
Iwalani will be out of the water by Christmas Eve and back in on the 30th. If the weather co-operates, we will get the bottom painted by the 27th so we can visit some more game parks and pick up our Pepsi and "V" that's waiting for us back in Richards Bay. South Africa is Coke country, so we had to special order a few cases of the competition from Namibia. Our order came in the day after we left. We are still searching for grapefruit juice.
Holiday greetings to all. PS
Log for the week of December 29, 2002 by APW Durban South Africa
"I told them months ago that we needed new lifting straps, but the owner said it was out of the budget so that's why I am quitting. I just can't handle his cheapness anymore... " This was from the yard manager that quit just days before Iwalani's haul out.
"If the lifting straps aren't any good anymore, should we still get hauled out?" I asked, putting two and two together.
"Uh..." he said back peddling fast, "It shouldn't be a problem."
So with this in mind, Phil and I motored up the small river, away from the city center, to the area where most of the repair work is done on ships and yachts. We really had no other choice- this was the only yard we knew of that could, or would, haul us out. We had bare spots of wood on the hull, which were ripe for toredo chewing.
"It's not really the lifting up that's a problem." Phil said. "If the straps break while the boat is still over the water, she just falls down uninjured. It's when the boat is being carried by the travel lift and is half way over the water and halfway over land- that's when I really sweat."
Now this was not a mental picture I had ever conjured up in my doomsday imagination. When the picture formed in my neural templates of Iwalani crashing down, hitting the cement ledge, then toppling over backwards like an overturned turtle- my bladder reacted in kind and left me with a stress related UTI. Just what I needed living 14 feet up a ladder.
The boat yard replacement manager looked like he still wasn't old enough to shave, but after pocketing his Nintendo game, he seemed keen on proving himself. We didn't have any trouble, despite my imagination. The weather also cooperated with gale force winds arriving four hours later than scheduled. It was only after we were out of the water and securely parked in the dirt, with eucalyptus logs spaced every four feet to shore us up, that the horror stories of other boats not making it out of the water as successfully began to surface.
We had a delightful time spending Christmas Eve with Fred and Eva from Peri Peri radio. I am still not used to the Southern Hemisphere summer Christmas tradition of wiping the sweat from your brow, as you plow into enough food to last a two-week passage. Fred and Eva have many cats and dogs, which were wagging and winding their way around our dinner plates and feet, making me just a little wistful for a house full of activity.
Christmas in Maine is usually spent around the balsam fir Christmas tree. A real tree, perfuming the entire house with its thick dark green fragrance- not the fako Walmart version. How can something smell like a color you ask? Only in New England can you smell the green of Vermont, or the orange, yellow and red colors of autumn. But the dark green smell of a balsam fir forest is like no other, and a small whiff of it comes into the house at Christmas, when the rest of the landscape lies frozen and colorless outside. Christmas morning Ben and Nathaniel are giving whoops of delight as they open their presents. The dogs lie next to the wood stoves chewing their Christmas rawhide, the cats rolling next to them content with their Christmas catnip. A gentle snow silently falls, carpeting the fields and woods beyond. Just enough for an afternoon cross country ski. Christmas bread rises in the oven...
"Whoa" Pull that needle from the gramophone.
My mother called and their Christmas was anything but bucolic. Dad got the stomach flu and became so dehydrated he had to be hospitalized. A blizzard arrived, knocking the power out and making driving hazardous. The car got a flat tire in the process of getting Dad to the hospital. My sister was up at three Christmas morning plowing the driveways. Then everyone taking care of my Dad got the flu...
Our Christmas was spent lounging around a suburban Durban oasis- a pool landscaped with tree ferns, palms and brightly colored tropical flowers. We were invited to Christmas dinner by the parents of one of Phil's boatbuilding students. We had a blast. Except for the conversation about the trouble with monkeys breaking into houses- it seemed hard to believe we were in Africa. We did talk politics and South Africa's politics are perhaps the most interesting in the world. And with Zimbabwe just to the North and all the excitement going on there, these places all of a sudden took on new meaning. Before, they were only names that came out of the radio while listening to NPR. In fact, a few days ago a woman asked me if "the red men still live in teepees, like the Zulu here, who live in traditional huts." Now to be perfectly honest, we haven't seen too much traditional Zulu lifestyle, despite all our meandering around the countryside. Round Zulu huts with thatched roofs are scattered amongst the hills, but the people wear clothes fashioned from the pages of Teen magazine, not National Geographic. With one exception. Late one night, as we were driving back to Richards Bay, we did pass a guy walking along the road wearing a leopard skin loin cloth and carrying a spear. Phil never saw him and thinks I was dipping into the Lariam. Not true- we are on Doxycycline for malaria, so Lariam hallucinations can't exist. I think all the interesting stuff happens after dark, which is why everyone tells us not to go anywhere at night.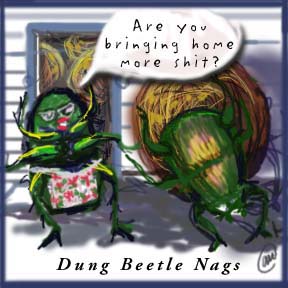 Phil, in record time, (with a little help from the gale force southwest winds, which helped to dry the bottom of the boat and even less help from me who ends up wearing more paint than gets put on the boat,) got us painted with our new RED Jotun bottom paint. Gone is Iwalani's green bottom. We are now a symphony of reds, maroons and pinks. We did not get the "toxic" Jotun that all the other yachties are going to great lengths to acquire here, as it is the last hold out for the skull and cross bones, tin saturated death mix.
"Why would you want to use that stuff?" I asked one other yachtie.
"Because I don't have to repaint the bottom of the boat for three years" he replied.
"But I heard that people have died sanding this stuff off" I quipped. (I wasn't going to bring up the point that by using that toxic stuff he was basically killing off half the ocean with it, as I didn't want to be known as a clam-hugger.)
"Yea, well" he said, "You do need to use a real respirator and get all suited up."
Now maybe I am just thick headed, but it seems to me, once you put this paint on, there will always be the risk that at some level, parts of it will always be there. Who's going to know years from now, when this guy is long dead, that the bottom of his old boat has really bad stuff painted on it?
Certainly not the guys in South Africa hired to do work on people's boats. At the very best, a worker here will put an old rag over his nose as he grinds off years of anti-fouling paint. I must admit, I had actually entertained the notion of hiring someone when we got to South Africa to take all the paint off- from the wretched International Micron CSC, to the precious, scarce, green Nautix.We would then just start all over with copper sheathing. But when we got here and I found out that the average worker gets paid 40 Rand a day, about 5$ US and would do the work with just a sock over his mouth, I just couldn't do it. We also have to keep our record of doing all the work on this boat ourselves, including boat equipment repairs and maintenance.
The whole labor thing is something I am still trying to figure out too. I try and relate everything to the amount it takes to buy a Coke. The Coca-Cola currency, if you will. In the US, when we left, the minimum wage was $5, or so, an hour. If you bought a Coke at a gas station it was .75- let's call it a dollar. So the unskilled US worker could buy 5 Coke's an hour, or 40 Cokes a day. In South Africa, Coke is about 3 Rand a can. Lets call it thirty US cents, even though the dollar keeps dropping- so the average South African can only buy 13 or so, Cokes a day, vs. the US workers 40 Cokes. Is there something wrong with my math here? Or is there something wrong with this picture? On top of this, is the dreaded 14% VAT- so it's a wonder the South African can buy anything at all. But of all the African nations this is the most prosperous. What does the South African get for all that VAT money? Not much that I can see. There are few policemen, I have never seen a fireman and there is no welfare. When a tiny little waif comes up to us with one palm outstretched and the other hand rubbing their stomach, saying they are hungry- they really are. We have developed a new system called the peanut game show. In order for a beggar child to win cash he or she must answer three questions:
What is the sum of 4+5?
What is the capitol of South Africa?
A real question, because I am still looking for the answer- It's either Pretoria or Johannesburg (my world Atlas was printed in 1993- it looks like they thought the whole South Africa thing was up in the air back then) ...and a simple letter recognition question. So far, everyone has ended up with the bag of peanut consolation prize and I don't have my answer for the capitol of South Africa.
With all our travelling through the Indian Ocean, South Africa seems to be a bustling exporter. Ships are leaving ports, lower in the water line than when they arrived- (if that means anything). And yet, there is this Coke thing. It really seems like this country should be right up in the wage ballpark with the rest of the top players- Europe, Australia the US. This country is loaded with gold, diamonds, trees, coal and lots of smart people- how can the Rand be so weak? I just don't get it. Maybe that's why I am a veterinarian and not an economist.
This whole foreign aid thing had always been a mystery to me too. Other countries besides the US give aid, lots of it to other African nations. Are we cheapskates if we cut it off? I was told that Bush cut off foreign aid to Swaziland, because the Swazi-King wanted to buy a new jet. Kudo's to Bush if that's true. But does aid really get to the people? Or to where it is needed? Zimbabwe is just to the north of us. White people really are being ousted off their farms, there is no fuel and people are starving. However, war torn Mozambique, also just to our North, is starting to come around. I gather it's a great place to buy used AK47's for about $18.00 US, or go Scuba diving. We found out that the reason there is no Pepsi here- is because Pepsi somehow did something to offend someone, somewhere- and now Coke is king. Pepsi is imported from Namibia- which is why we drove to Richards Bay from Durban one last time, so Phil could pick up his Pepsi specially ordered in!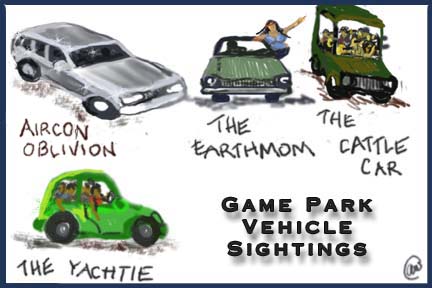 We also decided to spend one last night in the Umfolozi game park. I had wanted to camp but there was nothing available as this was the biggest vacation weekend of the year. So we had to settle for a night at Hilltop, which we had already visited when my sister was here. (The other thing I still want to do is a five-day hike and camping expedition through the wilderness area of Umfolozi. It costs about 1000 Rand and they supply the food and tents. See www.kznwildlife.com or phone 27-33-845-1000)

Umfolozi/Hluhluwe is the oldest game park in South Africa. Not as well known as Kruger, certainly not as big, but packed with plenty of animals. Unfortunately, over the Christmas break they are also packed with people. We saw the usual big five minus the cats- too hot for them as well as us.

Being cat-less on the boat has its definite drawbacks. Stewart was the chief bug officer and with his blindness and frailty, I always thought he was shirking his duties. Now we are being over run with bugs and I see how wrong I was. When we were tied to the French boat in Reunion we noticed that it came alive with cockroaches at night. Now we seem to have a similar fate. The roach hotels only seem to provide them with a nourishing fodder. We are busy finding a lizard to serve as Chief Insect Officer. Any applications will be greatly accepted.

This week I had a technological debacle, for no other reason than my magnetic personality, I guess, erasing the microcircuitry in all our electronic doodads. My computer Arnold is still really dead. Phil and I are convinced it is the power supply-, which has always given us a problem from day one, or the c-mos chip. So far, no one in South Africa has been able to fix it. That's ok, I can live with it- but some of Stew's writings were on it and I want to get them off of it somehow. (No, he didn't back up his stuff... ) In one day I also managed to erase the brain in the Epson printer and the Nikon "Coolpix" camera- again. This same thing happened when we went to New Zealand and we blamed it on the airport security. This appears not to be the case. How we are going to get it repaired (again) is anyone's guess. So, the bad thing about that is that there will be no new web pictures. Which is why you must suffer with my drawings and ramblings, when I know that people are really only interested in pictures...

APW

<!END CUTTING AND PASTING BEFORE THIS NOTE!>