Log for the week of February 10, 2002 Sydney and Coff's Harbour Australia by APW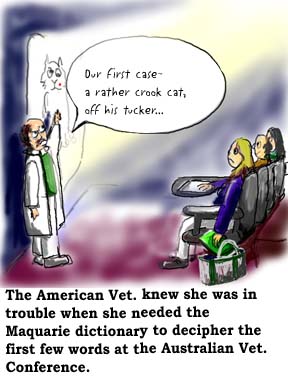 This past week, for me anyway, was the best I have had in a long time. It rained and it poured, and at one point the dismal gray clouds started chucking out hail stones, but I sat safely soaking up knowledge at the University of Sydney Post Graduate Foundation lecture hall. I had been worried that disuse had allowed leakage from my Vet. neurons somewhere out in the South Pacific. Fortunately my synapses were rusty but not totally discharged. I also managed to break my previous record held since 1982, of not falling asleep during a lecture for an entire week. I had perfected the art of sleeping in Veterinary school, with my pen poised ready for note taking; my eyes open; for all intents and purposes looking alert, but with all systems shut down. The only flaw in my system was not being able to control the eventual small waterfall of saliva that flowed from the corner of my mouth, pooling onto my lecture notes. I eventually learned to use waterproof ink. At this stage in my life, I was so starved for spoon-fed knowledge in Sydney that I even read the notes after the lecture. It was a lot of fun sharing views on Veterinary medicine in a room where the entire population actually loved cats.
Veterinarians in Australia are trained a little differently than the US. For me, their system would have been a lot better. In Australia, students get to go directly to Vet. school from high school.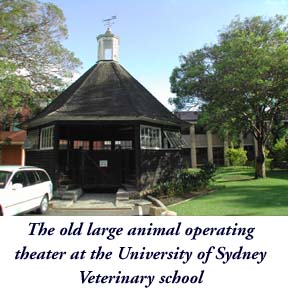 It then takes them five years to get a degree. In the US, the traditional route is four years of college, then four years of Veterinary school. Since I wanted to be a vet from the age of three, I could have saved "heaps" of money as they say here in Australia, by cutting out three years of unnecessary college. I was twenty-five when I graduated from vet. School, the second youngest in my class and anxious to move to Maine. Had I been a bit younger I probably would have gone for board certification, something I recommend to all Vet students nowadays. Some of the Vet. schools in the U.S. now offer this same system to high school graduates, so it might be worth looking in to if anyone is interested in by-passing the college route. I think you would have to be a pretty exceptional student-, which I certainly wasn't in high school...
Even though the main lecturers were from the US, I still picked up some valuable information on treating Australian diseases. I think it is really important for American Vets and MD's to recognize 'exotic' or tropical diseases. The world is shrinking and with no quarantine system in America, bizarre diseases can walk right into the average animal or human hospital. Recognizing, or at least knowing about these diseases is important. Knowing how other countries treat them and what drugs are available, even if they aren't available in the US, I think is also important. It also gave me an excuse to go book shopping.
Its funny, but Phil and I have both found that our favorite reading material at sea has been either textbooks, or biographies. We chew through novels sometimes in just one watch and feel very dissatisfied afterwards. Empty calories, even with the supposed good books. I do have one exception however- I really like Clive Cussler. His books are so awful that they are terrific. I am not ashamed to admit it. Yes, I like Twinkies too. So I went a little crazy at the Vet. conference buying Australian Veterinary textbooks. We are amassing a big pile of books to read at sea and it is taking all my will power not to start reading them now... Reading is so much more fun than writing.
One of my favorite questions to ask an Australian is their opinion of the monarchy. Believe it or not Australia really isn't its own country. They may think they have their own government, but they also have a governmental position called the "governor general" or some such fancy title, who is appointed as liaison to the queen. Few people realize it, but the laws are such that this non-elected person has the power to overthrow the Prime Minister. Which, given the recent events in Japan, I think I would take note of. We have also unearthed a lot of closet monarchists, husbands mostly, who would be very upset to lose their connection with the queen mother. June 10th is also a public holiday in Australia. Any guesses what they are celebrating? The birth of Helen Caldicott? One of my all time heroines? She is actually an Australian, though many Australians don't know who she is. For the record she is a physician who alerted the world to the fact that the French were blasting the Tuomotos with nuclear bombs. She also founded the Physicians for Social Responsibility. I can't think of a single person in the twentieth century that did more to help save the Earth. Nope they aren't celebrating Helen Caldicott. If you guessed the queen's birthday, you are entirely correct. An entire day off from work to celebrate the birthday of the queen. I just don't get it. But I am American.
Australia is like a college graduate that still lives at home. I think if they cut the antipodean umbilical cord they might be a much stronger nation. Or would they? I might be too negative once again. On the positive side I have to say that despite Australia's position geographically, its citizens are more global and know far more about the world than the average US citizen. So maybe the antipodean connection is actually good. Most of the Australians I have met, not only know where Maine is, but have actually been there. That is more than I can say for the average Californian. I have to admit that I had to look up the word antipodean in my handy Maquarie dictionary. It is the adjective for the noun antipode, which are the points on the earth diametrically opposite each other. None of my dictionaries touch the pronunciation of antipodean. But if you can pronounce Antigone, you are off to a good start.
Lots of people from other countries are trying to move into Australia. Afghan refuges are hung up in Indonesia waiting to get approval to move here. It will probably never happen. Not because the Australians don't want them, or don't have room for them, but because they have "jumped the queue". There are many forms and proper channels one must go through in order to immigrate. Those refuges literally jumped to the head of the line and that behavior is very much frowned upon in Australia. I wish that would happen in my country. It's always the people with money or those that cut in front, that make it in America. Or so I used to think until last Sunday.
How 'bout them Patriots? Talk about an underdog team. It took me two days to finally find out who won. Despite the fact we had hotel TV's to watch, the Aussies were more interested in showing the TV ad's played at the Superbowl than the actual players of the Superbowl. I HATE football, but the Oakland Raiders and the New England Patriots are the only football teams I can name- so I am practically an expert where those two teams are concerned.
How many of you Americans have been following the Cricket Nationals? I am proud to say I finally figured out the point of the game. The fellow that is trying to throw the ball at the other fellow with the bat-isn't really trying to kill him- he is trying to knock the little blocks off the wicket behind the guy with the bat. The guy with the bat is standing in the way, trying to prevent the guy throwing the ball from hitting the wicket and maybe also smack the ball away, to one of the guys standing around in the field watching the birds fly by. Although how New Zealand managed to beat Australia and go on to the finals because of the "Bonus point" (despite the fact that Australia had a higher score) is still beyond me. For months, or a least a century, Australia was playing South Africa, not in a match but a test. Then it all boiled down to just one game played in Sydney between South Africa and New Zealand and I believe that South Africa finally won. They deserved to win just on the basis of sheer perseverance alone.
There are two things that I have to say Australians are hands down winners for. The first is wine. (Sorry France, you win for all other pastries, veggies and fruit that are grown for taste, not gargantuan size, architecture and jelly sandals.) Australian wine is very, very good. The Aussie toilets are impressive too. It took me awhile and a few flash floodings of pant legs and shoes, to figure out that you don't have to push BOTH buttons down at once. The left hand one is for delicate flushing, the right hand one for Industrial flushes. Both pushed together, deplete the National water supply. It's no wonder Cliff from Maloka III complained to Phil and me(I?) about the American toilets.
I am happy to report the Aussie water supply has been replenished, despite by double button pushing, after the rains of the past week. Interestingly enough, after the rain we noticed no squashed mammals along the roadsides- only turtles. The rain also made the bird watching in Sydney a little less interesting. I guess many more species were coming to Sydney to drink out of ornamental pools.
The rain has also brought the fish out, which has brought the sharks out. A kayaker almost became a shark snack up a local river. He managed to swim to a navigation pole, shimmy up it where he clung for hours before being rescued. They identified the shark as a bull shark, common in fresh water, from a tooth left in the kayak. Here I am gearing up for our river trip, out of crocodile territory. I thought that would be a relatively safe way of experiencing bush animals without getting bitten by a snake, stung by a spider or chomped by a croc. Guess again.
The weather has also prevented flotilla's of boats from heading South.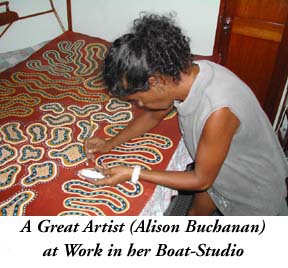 Alison, next door, needs to get paintings down to galleries in Sydney. But the Southerly winds have kept her here, which is OK by me. I discovered the secret to the dots used in aboriginal paintings. Yup, it's a stick.
We also had a visit from an American friend, Sarah Hammond, who is one of those people that has no qualms about speaking her mind or doing oddball things in life. She also likes cats. She used to be a journalist but became discouraged with the profession, because editors have their storylines in mind, laid out and illustrated even before the "grey goo" as they call the copy, gets written.
My research into my great, great, great (I don't really know how many greats), grandpop, has led me down many different avenues.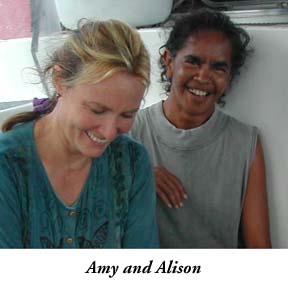 There seem to be many reasons why ol' Lachlan Macquarie had such a tough time here, despite naming every possible unnamed object after himself. He was most remembered for using convict labor to build the city of Sydney. He believed that hard work could lead to rehabilitation. That supposedly was what villified him in the eyes of the fellow noblemen. Or so everyone thinks. I also found out a few more interesting "laws" he implemented, which had far more impact on the average Australian. First of all, he made it illegal to shoot an aborigine, unless they were in groups of six or more. Shooting aborigines used to be big sport in Australia. He also thought there were way too many pubs and drinking establishments. He made it mandatory for all pubs to hold a license and illegal for them to be open on Sunday morning. Anyone that was found wandering the streets on Sunday morning and wasn't in church was fined. This ended up in the closure of several fine drinking establishments. It's no wonder everyone hated him. He went back to Scotland a sad and poor man, as the English government owed him back pay. He also funded many projects from his own pocket. He had contracted dysentary in India, which is what he eventually died from, while trying to negotiate with the British for money he was owed. Now I know where my stress related problems come from.
Well that's about it for this week. I guess this is enough grey goo, or I suppose more acurately blue goo. I have managed to waste several moments of everyone's valuable time talking negatively and yes once again back to bathroom talk. So much for New Year's resolutions. Perhaps Phil will report on boat stuff. APW
Log for the week of February 17, 2002, Australia by PS
Well, it's been another busy week here at Coff's Harbour. I know some of you think we are killing time laying around on the beach. I won't mention any names though. While at first, it seemed that our six-month stay would be more than enough time to re-group, we are already thinking about leaving.
Computers are still taking up a lot of my time. The new hard drive was installed on Danza's computer on Monday, but the computer store was having trouble formatting it. I discovered they were using the wrong restore CD and they didn't have the computer plugged into an AC outlet. Trying to format and restore a computer on battery power is a bad idea. Power interruptions raise havoc with installations. I decided the best thing was to do the work myself. I was in a bit of a pickle because the formatting the shop had done split the new drive into two seperate drives. The long and short of the story was that I couldn't seem to get anything accomplished on Monday re-formatting the drive. I finally came up with a solution, while trying to sleep that night. I hand wrote a boot disk, with the correct code, to allow me to format the drive. I'm learning more about DOS than I ever wanted to know.
After finally getting Danza's computer fixed, our Hewlett Packard CD re-writer went south. We had backed up all our data onto CD re-write discs before putting Arnold's new hard drive in. BIG MISTAKE! Be WARNED, if you have your data backed up on a CD RW disc, write it to a CD R disc ASAP! CD RW discs have a tendency to not be read by Any Other Drive. Period. We discovered this after our re-writer died. We couldn't retrieve our data using any of the three CD DVD drives we had at our disposal. Without getting too technical, the reflectivity of CD RW discs is a lot less then CD R discs, hence they are harder to read. After trying all the drives at the local computer store without any luck, we tried the drive in Garth's laptop and hit pay dirt. His drive could read almost all the data on our RW discs. I copied the data to his hard drive and made CD R disc's using his internal CD writer. No more CD RW disc's for us!
We spent Tuesday going over charts for the remainder of the trip. Boat Books, in Crow's Nest, NSW was kind enough to send us (over-night I might add) a British Admiralty Chart list that we could use. We came up with a list of about 20 charts. Between the Russian C-Map program and the BA charts, we should be covered. At $35 US each, the charts are a pretty big investment. Thank god for the Russian's! We chose BA charts for areas that C-Map didn't cover very well, mostly the East Coast of Africa. And yes, we will be making paper copies of approach and harbor charts, from the C-Map program, before we leave.
Besides the charts, we are gathering needed boat supplies like oil, oil filters, spare water pump parts, paint for the bottom, new halyard line etc.
We've also been working on up-grading the web site pages. It's been over three years since I hand wrote the code and edited the images and it looks like it. Don't worry, we are not going to change the layout. Just up-date the look of the pages, make things a little easier to navigate and add more information. Stay tuned.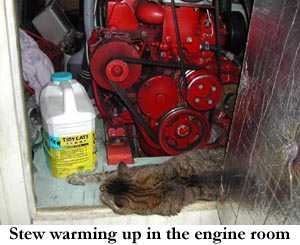 Stewart has been spending his time trying to stay warm. In the tropics no less. I'm not sure what he is going to do when we get back to Maine. Amy is not too concerned, but it seems like a change of behavior to me.
"Neville" is still going strong, even after hauling our anchor chain over 1,000 Kilometers. His next adventure will be a camping trip to the wilds. Believe it or not, Amy says that she has never been camping. Pitching a tent and living off the land, you know that sort of thing. Hopefully, next week we will be waking up to the sounds of wild animals and not diesel powered fishing boats!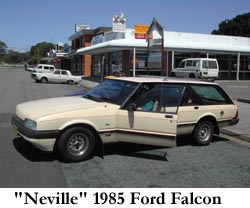 Our ship batteries seemed to be having some trouble getting fully charged from our occasional engine runs, according to the Heart Link 20 battery monitor. Our amp hours were steadily decreasing. Bank 1 was also apparently self-discharging about .5 amps. I called LifeLine and asked about using a 6amp AC charger (from shore power). They said it would be fine. I went to the local "Dick Smith" store and bought the charger. 24 hours later, bank 1 (at rest, no load voltage) is holding steady at 12.65 volts. It appears that the Link 20 is not working properly. You may re-call that it was not working when I first installed it. I sent it back to be repaired once; I don't plan on sending it back to Washington State a second time. If we just keep track of the "at rest" voltage, we'll be fine. This business of keeping track of the amp-hours isn't a reliable way of judging battery health.
I've also been working on the local vets web page. I'm on a steep (read frustrating) up-hill learning curve trying to add animations and rollovers. You know, those annoying pop-up messages and blinking stuff. My only real frustration is finally getting something to work, then forgetting how I did it! Maybe I really am too old for this stuff. My son Ben has been working on his own web page. He's collaborating with a friend to produce animated music videos.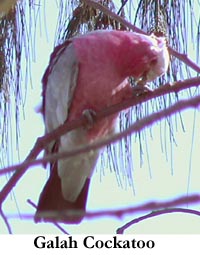 I have had time to try out the new telephoto lens on the Nikon digital camera. The Cockatoo picture came out blue, but thanks to PhotoShop, I was able to fix it. I really must read the directions for the camera someday.
That's all for this week. PS