That's it for the log. Now onto "The Best and Worst of 2001."
Top Five Equipment Performers on Iwalani that have yet to give us any trouble at all. And we wouldn't leave home without.
1) Furuno Radar
2) Lee Sails
3) Maxwell Windless
4) Russian C-Map Program
5) Nautix Bottom Paint
5a) Gelataio Ice Cream Maker
Five worst
Micron CSC Bottom Paint (before the Nautix was put on)
Wilcox Crittenden Skipper Head-The arm on the pump mechanism is so worn that you can't pump full strokes
Man Overboard Pole-Fiberglass gives us splinters. I'm going to cover it with plastic tubing.
Ships Compass- Card jammed due to card tilt in the Southern Hemisphere.
SEA 235 SSB- If people can hear us (we don't always get through, when everyone else can) they say we sound like Mickey Mouse. I've tried everything I can think of to cure the problem.It started sometime after leaving the Galapagos.
Best Movie
"Oh Brother Where Art Thou?"
Worst Movie
Traffic
Best Restaurant
Kia Ora on Rangiroa
Worst Restaurant
Crab and Gravy dinner on Moorea
Best Anchorage
East Side of Bora Bora
Worst Anchorage
Namena, Fiji
That's all for me. I'm sure Amy will have a few things to add on her log. PS
Log for the week of January 13, 2001 Coff's Harbour NSW Australia by APW
So begins a New Year with a fresh positive outlook. I got myself so worked up when it came to writing the log yesterday that I ended up with a migraine. The attendant plumbing difficulties, which come with that condition, prevented me from doing a lick of work. I could not seem to write a word without offending someone somewhere. I came up with the idea that when I get into negative territory I will give multiple choice statements, so that the reader may chose whichever phrase best suits their individual parameters.
There comes a time in any person's marriage when you must back down and say "yes dear" in order to keep the other half happy and the marriage intact. This whole "marina thing" was a case in point. I was perfectly happy to arrive in Australia and move up some river where we would remain anchored for six months, sneaking Stewart to shore illegally whenever we had to go somewhere. Phil would have nothing to do with that. He wanted to be at a marina where we could work on Iwalani, get a phone, hook up to the Internet and we could travel inland and he could re-group. He was not about to do anything illegal. In short, he was ready to become a marina rat.
This is because world cruising on a sailboat is
a.) An incredibly enjoyable experience where you can meet new people and learn about new cultures, yet still carry forty-four thousand pounds of baggage with you, (which if not cared for could leave you treading water thousands of miles out to sea.)
b.) A continuous challenge where you are implementing novel ways of problem solving in order to carry out ordinary day to day repairs- as in the case of using the hood of an abandoned car to make a new self steering gear.
c.) A selfish personal quest, forsaking familial and community obligations in favor of personal enrichment and a sense of global achievement.
d.) All of the above
e.) None of the above
Up to this point I had spent probably one week all together in marinas and I had come to the conclusion that there are nicer places in the world to hang out.
I am not really happy unless
a.)there is at least one mile between me and my neighbor
b.)I can hear the muffled arguments and bathroom habits of my fellow man.
c.)I can walk a half-mile each time I need to use the bathroom, thereby accomplishing two feats at once- exercise and a cleaner harbor.
d.)I can hear the staccato symphony of thousands of halyards slapping against hundreds of aluminum masts.
e.)I can wake up to the marina wildlife- the sights and smells of dozens of bored cormorants playing guano darts on our deck.
This past week was spent getting Phil and Iwalani towards Phil's dream of Internet on the boat coupled with enough electricity to surf the net while eating homemade ice cream.
We left Canberra, the Nation's capital, after a quick visit to the AQIS headquarters.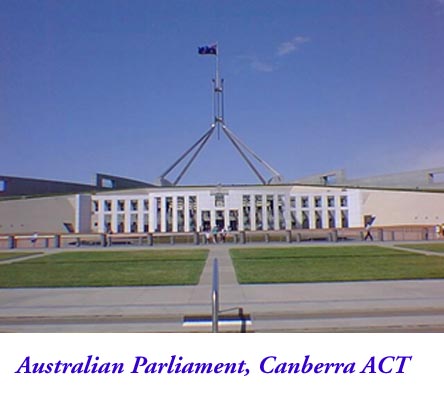 I waited patiently for the receptionist to finish her banana before she gave me the correct numbers so I could dial upstairs and announce my arrival to the authorities on the floors above. The tinsel tousled Christmas decorations strewn on chairs, desks, floors and boxes gave the offices a homey touch and the impression that they don't get many outside visitors. I actually had a pleasant conversation with Sue Bruce from AQIS. She told me that the AFFA people had just completed their risk assessment analysis for the Australian government. No one has been able to read the report yet, or if they have, everyone is keeping quiet about it. Two thousand dogs and cats a year come through Eastern Creek. There are still three other quarantine stations in Australia. Never, in the history of all the quarantine stations has a case of rabies shown up in any animal. There are of course several ways of looking at this:
a.)The Australians are doing a good job of screening out animals at risk of bringing rabies in.
b.)The quarantine system is possibly redundant for visiting yachts.
c.)As all the AQIS vehicles state, they are "protecting our way of life."
d.)Australia has its own version of rabies called Lyssa virus, a virus in the same Rhabdovirus family as dog and cat rabies. It is found in bats and has killed a few humans near Brisbane. Those humans had symptoms identical to classical rabies.
e.)All of the above
Stay tuned for the final verdict on cruising the Pacific with pets.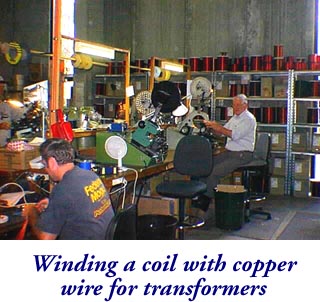 We spent the first part of the week visiting Stewart and more museums in Sydney. The Australian museum had lots of great skeletons and stuffed animals. I could have spent a week poking around looking at body parts. Did you know that there are paired pouch bones in most marsupials? They even had one stuffed estuarine crocodile almost as long as Iwalani.
Midweek we left Sydney for the return car trip to Coff's Harbor.Along the way we stopped in Hornsby to purchase a transformer in order to get the Australian 240 volts stepped down to 110 for our American boat. Phil had found a place near Sydney that supplied step-down transformers but they wanted $900 Australian. The chief financial officer vetoed that. Eventually we found a company in Hornsby where we spent around $380 Australian. Now we had a way to plug in our icebox using the marina power. Phase one of Phil's marina nirvana was near at hand.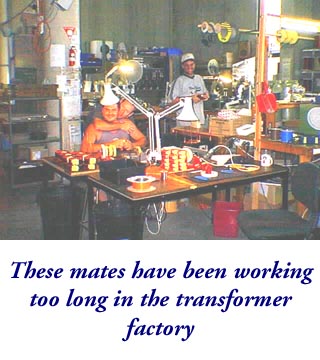 We arrived back at Iwalani late that afternoon, only to find her drenched in bird poop. We had only been gone five days, but it was long enough for the birds to think we were gone for good. After a long drive we weren't expecting to wash and scrub the entire boat for evening entertainment. The positive side of that, since now it is 2002 and I am no longer Ms. Negativity- we became motivated to get the awning made. It has only been a year since we had been talking about making one! The sewing machine came out and between the two of us we had the boat covered in a day.
Between sewing and scissoring, I hauled Phil up and down the mast so he could sand and varnish the bare spots of wood near the top, where the gaff jaws wore through the varnish. It was just too hot and dry to leave bare wood exposed like that for long. You can't ask for a better climate than Australia for painting and varnishing. In three days Phil got eight coats on.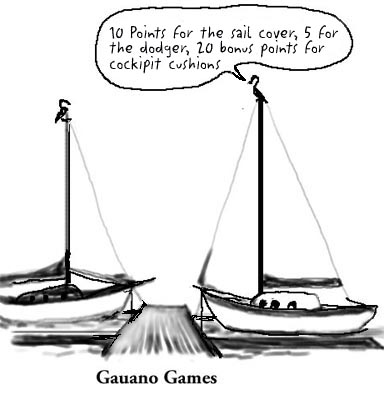 Friday was the big day for Telstra, the Australian Phone Company, to come in and hook up our phone line. We moved Iwalani to her assigned slip just moments ahead of the Phone Company. The crew arrived at Iwalani's slip near the outermost pier and amidst much head scratching and jaw rubbing, announced to Phil and I, that we would need to hire a private contractor to get the phone wire out to Iwalani. I could see the crestfallen look on Phil as his hopes of marina nirvana were becoming dashed.
"No wait" Phil cried, while being dragged along the dock, clutching onto the bosses leg, "Don't go! Look! Follow this cable, this is phone line." Sure enough Phil showed the Telstra guy, the phone cable which did go all the way out to Iwalani, but landed a few feet short of the junction box in a murky barnacle covered jumble of phone wires under the dock. They hauled the wires out of the water and the Telstra-guy tested the wires with a sound wave oscillator and found that they were still good. "Well I'll be mate" he said, "Looks like a bit o' luck" No, not really, just Phil.
He was surfing the net and phoning his kids just a few minutes later. We overheard other cruisers further down the pier complaining to the poor Telstra fellows as they tried to leave for the day, that they had been trying to get a phone out to their boat for years. "You guys told me it couldn't be done." Was heard over and over again.
One of the advantages of Australian telecommunications is that the Internet and phone calls are unbelievably inexpensive. In fact I am waiting for our phone bill before I go completely crazy calling people, I can't believe it is only $5.00Aus to call the US for the first 30 minutes and the second thirty minutes are free...
We went later that afternoon to pick up our new car. It still wasn't ready and the salesman said to come back on Monday.
"No worries mate" Phil said. He had the phone on the boat and the rental car until Monday. There was no rain on his parade.
Now honestly, you have been reading my logs for how many years and you really think things can go that easily for us? I am after all, the consummate whingeing pom. Every cloud must bring its downpour.
One of those horrible jobs on my list to do when I got to Australia, right up there with cleaning out the hoses to the head, (I do mean marine toilet in this case) was to back up all the books articles, photos and artwork I had been working on since we had installed Arnold's* temporary brain in the Marquise's from Ken on Sunbow. Thanks Ken, if you ever read this, for your timely intervention with a brain transplant. But, the time has come to reinstall Arnold's new brain and put him back up to full power. I spent an entire day writing all my stuff to a CD. It amazed me that 1's and 0's can create art, music, and written thoughts. It also amazed me how much cat hair had gummed up my computer keys. (One of the big disadvantages to allowing your cat full use of your computer.)
Phil and I spent Friday night surfing the Internet, finding information about cruising down the African coast. Then we decided to check on the American stock market...
When I was a kid, my Dad, constantly frustrated at my sisters and my requests- "Can you read to us, Dad please?" -would read from the Wall Street journal, more as a way of getting us to shut up and leave him alone. Far from leaving us bored and disinterested, it did get us to shut up, as we listened to the up and down prices of IBM, Gillette, GE, AT&T, and others. It gave us a fondness for the stock market, and for good books. It only goes to show it doesn't matter what you read to kids- it's reading to kids that's important. I am sure the nutritional analysis on the back of cereal boxes works well too.
Just as Phil was beginning his rendition of the Wall Street wrap up, an unidentified pop up window came on the computer screen. It was from "buddy0" and it said "Hi Amy, how are you doing?"
'That was weird' Phil and I said, looking at one another. But we ignored it in favor of Paul Kangas. Then it popped up again- this time it said, "Amy P. Wood I am talking to you". We quickly shut down the computer. Now think about this for one moment. Here you are right now, reading this boring old log off the Internet. Imagine if all of a sudden the same pop up window came up on your computer. At first you would think 'that's weird'... Perhaps you'd even be tempted to write a few sentences back.
I also thought "buddy0" was associated with our web page and was another "dissatisfied reader" writing to complain about my complaining. A friend would have identified him or herself. Buddy0 didn't appear to be a friend. Later, we found the scripting FTP program that buddy0 put on my computer while we were on Internet explorer. For a full half hour he/she was sniffing around my computer, opening files, looking at all the drives for anything that might be pinched, while Phil and I had no idea they were even there. Think about this for a moment more. I was incredibly lucky to have just cleaned up this particular hard drive. I have letters to my banker written in Microsoft word stored in a folder, which have my account names, numbers, credit card info- everything on them. The CD with all the important stuff was luckily sitting benignly in its case, not in the computer. It was sheer luck that nothing was available for buddy0 to find. Phil and I both knew that you are at risk for a "cracker" (that's a criminal hacker) each time we connect to the Internet. We just never thought it could happen to us. We thought a cracker would never bother with a home computer. My recommendation to anyone reading this is- immediately get some type of personal firewall for your computer. They are free for home use. This will prevent a cracker from stealing all your documents while you are checking your email. If it can happen to us, it can happen to you too because you are reading this while surfing the net. Phil and I even found a bunch of websites on how to crack into a home computer. We also found a website listing innocent people's screen names and passwords posted for other crackers to use! So while all these ones and zeros are really great for listening to music, viewing a painting, or finding out about visa requirements for foreign countries, they are also incredibly easy for people to use to do pretty awful things. It is a lot easier than you would think! There are more than two ports open on your computer each time you check the Internet. Buddy0's mucking around also left Arnold a little confused- his num-lock keeps going on which makes typing this a pain. But, his head transplant should happen sometime this week. So, buddy0 if you are reading this, which you may well be doing if you are really that bored that you need to crack home computers, first of all thanks for showing us how vulnerable we were, and secondly I dare you to try it again.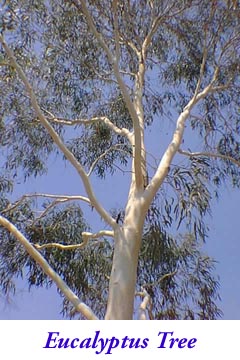 So while Phil has been blissfully tackling this new computer problem in between calls to the states, I sat back and thought to myself that the marina life may not be quite so bad- in small doses. I began day dreaming about my ideal marina neighbors. One would be a French woman that loved cats and had a teaching background. On our opposite side would be an aboriginal artist. I, like the rest of the world, have become quite taken with aboriginal art. The fine detail and pointillist style is fascinating, but I feel like I only understand half the picture.
The next morning, I found both fine ladies living on either side of us. Alison is an incredible aboriginal artist who not only had to teach herself English, but also mastered the iMac and PhotoShop in just three years. Her artwork is outstanding. On our other side is Jeri, a French speaking cat lover. I kid you not. Maybe this marina life could turn out to be really fun and what's more, Stewart will be home in just a few days!! APW
*Compaq Armada 7800 laptop
Log for the week of January 20, 2002 by PS
Well, he's finally back on board. After what seemed like an eternity to Amy, (and Stewart I'm sure) Stewart's 30-day jail term has finally ended. I'll give a rundown for the week, then close with "What works, what doesn't" to give some nuts and bolts information to those planning a long passage.
Monday we stopped at the used car dealer to pick up our new (used) 1985 Ford Falcon station wagon. The car was nowhere in site. Not a good sign. The dealer came out and told us there were some problems with the car. The mechanic had found that the power steering pump leaked and the steering box was loose. The car wouldn't be ready for another week. We weren't pleased about spending more money on a rental car and he wasn't happy eating the cost of the repair. We were even.
We headed to the rental place and extended our time for another week. Because we had been renting for such a long period (36 days) they discounted the total time to $40 a day ($20 US). Good news! (Think positive right?)
The reason we had to rent the car was to get to the ear specialist in Sydney to check out my ear problems. This had been hanging over us like a gray cloud. I have had my left ear operated on before. The chances of my insurance covering this "pre- existing condition" were about the same as us winning the lottery without buying a ticket. Who knows what the cost would be to perform a tympanoplasty, $10,000, $20,000? Despite all our efforts to be positive, a costly medical condition was not exactly in the budget.
Tuesday, we made our regular pilgrimage to see the prisoner. He was doing fine and probably couldn't understand our large smiles anticipating his imminent release. We tried to explain the situation, but he wasn't impressed.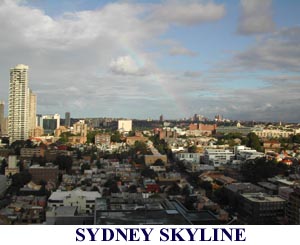 Wednesday, we went to see the ear doctor. After waiting the usual time (30 minutes past the appointment time) we braced ourselves for the bad news. He looked at my eardrum and said it had healed! Talk about miracles. We were in disbelief. After doing some hearing tests, he told us to come back in May for a re-check.
We celebrated by buying ourselves a new digital camera. We had been talking about getting one for over a year. Heading into a large discount store we started asking about digital cameras. A salesman, 50 years old or so, answered some of our questions. He said the camera rep was busy, so he would help us as much as he could. After about 5 minutes he ran out of answers and introduced us to the techno whiz. I was glad to see he was not even 20 years old. Not that I'm prejudice. But when it comes to new fangled electronics, the younger the person is, the better. We spent about an hour going over all the ins and outs of digital cameras. The bottom line was a Nikon camera with a 3x optical zoom, 4x digital zoom and 3 megapixals of image size. What this means is that we can get much higher resolution and a telephoto capability that we didn't have before. It also meant I have to get the larger hard drive set up in Arnold, because the image files are huge.
We decided to head out to the Blue Mountains, on the outskirts of Sydney, and kill some time before we picked up Stew on Saturday.
Amy located the Eagle View Resort on the Internet. With its video view from the cabin, she was hooked. Our hopes of hearing the sounds of the bush animals and seeing a live kangaroo in the wild were rewarded. Just before dark, we drove slowly down the road looking for the wild roo's. We gave up after a mile or so and turned around. It was then that we saw our first kangaroo. He/she was barely discernable from a large tussock of grass.
Amy was beside herself. Squealing with delight and grabbing my arm, she was more excited at seeing the kangaroo than seeing landfall after 30 days at sea! We watched the roo bound off at our approach and wondered how such a strange animal came into being.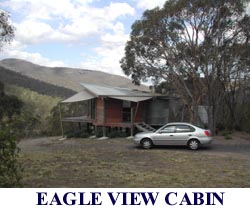 The night was very quiet. Much quieter then the city hotels or even the Marina. It was nice leaving the sounds of civilization behind.
Friday, we awoke to the sounds of a kookaburra. Now if you ever watched Tarzan, you know the sound of this bird. It actually sounds like a monkey. If you have Microsoft MediaPlayer you can listen to this audio (.wav) clip. Pretty neat huh? All thanks to 1's and 0's.
Saturday, we arrived at the quarantine station at 10am and were greeted to the sight of owners reunited with their pets. There were plenty of smiles to go around. From the animals as well as their owners. Stewart was released after Amy signed a few forms. I opened his cage as soon as we cleared the door. He seemed a bit confused. Clearly he spent too much time in the slammer. Perhaps he though we were taking him to the gallows. Only he knows for sure.
Once back at the Marina, Amy carried him to Iwalani. There were lots of comments from passersby. It's as if they hadn't seen a cat before. Well, to tell you the truth, cats are a rare sight. If you don't think Aussies hate cats, try typing in the key words " ferral cats australia" on the www.google.com search engine. (Be sure to spell ferral incorrectly) This is the first site on the list: http://winsoft.net.au/~craig/noxious.htm Check it out. Need I say more? Update: This site is no longer up as of 2007 :(