<!START CUTTING AND PASTING AFTER THIS NOTE!>

Log for the week of August 5, 2001 Bora Bora, FP by PS

It's been one year since we left Maine. Bora Bora seemed a long way off. Before leaving, we discussed our feelings of being overwhelmed to Herb Smith who had sailed around the world twice. He said, "Just think about getting to Portland, Maine, then think about getting to Newport, Rhode Island. Take it in little steps." At the time, a five-day sail to Bermuda seemed impossible. Now, after having sailed non-stop for 26 days, five days seems like a joke. "Only five days!" we say to ourselves. It's all a matter of perspective.

Monday we were still in Raiatea scrambling to find a way to keep the bottom of Iwalani dry. We biked to the hardware store and bought some plastic to make a "skirt" around Iwalani's waterline. During a lull in the rainstorm, which by the way dumped record amounts in some parts of French Polynesia, we taped it on. It worked well. By evening we were able to put on a wet wood primer recommended by the owner of Raiatea Marine. I also tightened up the garboard seams, as the planking had settled into shape. This is something that goes along with new wooden boats. It takes about a year for the wood to settle in, above and below the waterline. Only then can get a good-looking finish on a wooden hull.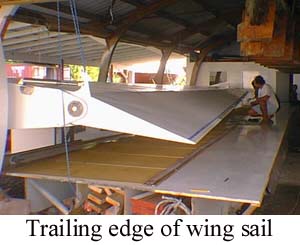 While nosing around the boatyard we came across what looked like an airplane wing. When Amy took a picture, the people working on it started yelling at us, in French, to not photograph what they were doing. What had we come across? Some top-secret French military project? The owner of the shop turned up and said that it was a wing sail. It was going on the boat, we took to be a power catamaran, that we saw moored in the harbor. We never admitted that we got a picture of the mast, but here it is, along with the boat it's going on. Talk about high tech! It will be the only wing sail powered boat in the world.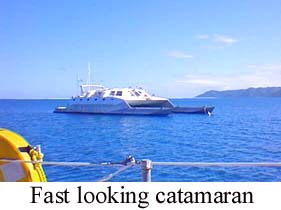 By Tuesday night, we had primed with the barrier coat and put two coats of Nautix green bottom paint on. This is the way I'm used to painting bottoms. None of this waiting 24 hours between coats, like Micron CSC. It remains to be seen if our approach will work. Putting on a wet wood primer is something new for us. While the last paint job stayed intact while in the water, power washing the bottom took some of it off down to the bare wood. If only we had used a traditional soft copper paint, but that's another story.
On Wednesday, the boatyard changed the blocking around so that we could get the entire bottom painted. While we were waiting to go in the water that afternoon, Amy found out that FedEx had been trying to reach us. The cashier at the yard happened to mention it, as he was making out our bill. Iwalani was half in and half out of the water as we transferred paperwork that need to be faxed to Tahiti. It seemed that the packages that were meant to arrive at the Bora Bora Yacht Club were being held captive by customs in Papeete. Thanks to the people at FedEx calling around to find us, we were able to get the paperwork to them. They told us to call on Thursday morning to find out what the situation was. Meanwhile, Iwalani was slowly making her way back into her element. The Polynesian divers were swimming around the boat making sure the cradle supports were gotten out of the way. Once everything was clear, I backed out of the trailer and slowly got turned around. And I mean slowly. Iwalani has a long keel and the basin was only about 100 feet wide. It took about six jogs forward and back to get her headed out to sea. All my backing and filling got the attention of the boat owners in the slips, as Iwalani's bowsprit came within a few feet of their boats. And no, we don't have collision insurance!
I got Iwalani anchored about the time Amy rowed out in the Grape. We decided to stay anchored off the Marina for the night and headed to our favorite dinner spot, Café Mimosa, just up the street. The food is good and not very expensive. I should mention that our food situation, while out of the water, was helped a great deal by our Sea Frost Shore Assist refrigeration system. It still worked even though we could only get 110 volt 50 cycle power. US power is 60 cycle. Our friends on "Voyager" had to go without refrigeration, as their system had raw water-cooling. The Shore Assist is air cooled, like your home fridge.
Thursday we called FedEx and had the packages delivered to the airport on Raiatea. They were a spare raw water pump for the engine and two new saltwater wash-down pumps. We had done the airport routine before, which worked well. The parts were due to arrive at noon. We decided to motor around to Uturoa to fuel up, get some grocery shopping done, bike to the internet café and the airport. When we arrived, the fuel dock was blocked with "cattle boats", at least that's what we call them in Maine. Boats which take rusticators (tourists) out for a taste of the sailing life. In Maine we use old-fashioned schooners. Here, they use large catamarans. Anyway, I decided to anchor off and wait. And wait. And wait. Finally, the Cat at the fuel dock started to leave. We hauled up anchor and headed in. Then I saw the Cats at the dock were only changing positions. Now what! They left what I thought was almost enough room to fit Iwalani in between them. So in I came. A bit fast for Amy's taste, but I was a little miffed. They could have left plenty of space for us. Still approaching at "good maneuvering speed" Amy called out "FOUR FEET!!" as I approached the dock. I rounded up at the last second and made an excellent broadside landing. Needless to say both Cat captains were ready to take our lines! This particular maneuver is what I use to approach Iwalani while rowing in the dinghy. You head directly at the side of the boat and turn at the last second. This brings you right along side, parallel to the boat. If you row up from the stern, you smack the boat with the oars before you can get close. The only difference for me was that I had never done it in a 44,000-pound boat before.
I settled the boat down while Amy went to the grocery store across the street. By the time I arrived to help, she had the shopping cart filled to over flowing. Luckily we only had to go a hundred yards with all that food. This was to be our last provisioning till Samoa. We got the cold food stored then headed out on our bikes. We went to the airport first, only to find that the staff would return in an hour. Oh well, what's time in paradise? It was worth the wait. At least now we had the spare parts we needed, wrestled away from customs.

We took care of our e-mail at the café on the way back, then headed Iwalani to Tahaa. On the off chance that we could go on the vanilla tour, Amy called Alain on the VHF. Luck was with us, as they had room for us on Friday. He asked if we needed a mooring and we told him we would anchor. We didn't realize at the time how this would work in our favor.
Friday we were up early, as the tour started at 8 am. We rowed to his dock and were introduced to the remainder of the group. Six French people from a chartered sailboat. We all climbed into the back of Alain's safari style Land Rover and headed up the steep drive. We stopped along the roadside from time to time and Alain explained the botany of the island, in French and English. We learned a lot about the history of the island plant life as well as it commercial and spiritual values.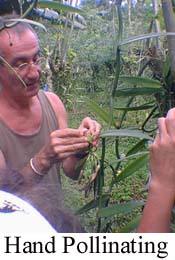 The vanilla orchid plantation was the highlight of the trip for Amy and I, as we plan to grow it in our greenhouse in Maine. Well, that plan took on a whole new light as we learned exactly what is involved. First they plant cuttings of shade trees. These are live branches about six feet long driven into the ground. Vanilla likes about 50 percent shade. Then once the shade trees establish themselves (about two years later) they plant the vanilla cuttings at the base of the tree. They don't plant them from seed, as the soil fungus needed for them to germinate is not found in French Polynesia. Once the vanilla vine reaches about six feet high, they drape the top half down to the ground. Vanilla won't flower unless it is hanging down and it needs to be stressed by cold weather (17 degrees Celsius) before flowering actually begins. As if that's not enough, you have to hand-pollinate the flower. There are no insects that will pollinate the vanilla flower except in Mexico, where vanilla originated. It took three hundred years and the ingenuity of an eleven-year-old to discover this. Once you harvest the vanilla bean, you have to go through a four-month drying/fermenting phase before it's ready to use. No wonder vanilla is so expensive.
We returned about 1:30 pm. After the charter people left, we talked to Alain about sailing. He and his wife sailed from France about 20 years ago and settled on Tahaa. They built a traditional Polynesian house using palm fronds and pandanus leaves. The house is open-sided and they have no electricity. They seem very happy with their lifestyle and enjoy meeting fellow cruisers. Alain is not impressed with the charter fleet, even though they supply a good deal of his business. He can't understand why even the charter captains are loath to use their anchors. He is forever trying to keep his moorings free for his guests. Which brings me to my earlier comment about anchoring. He thanked us for anchoring instead of fretting about getting a mooring. He also took our US money, as we were a bit short of Polynesian francs. All in all, Amy and I came away felling that we had gotten our monies worth. This is the first time we got in the back of a safari truck and did the "Tourist" thing.
Saturday we headed for Bora Bora. We motor-sailed most of the 25 miles, as the wind was a bit light. We came through the pass and were greeted by the smell of burning trash once again. Ah Paradise. We anchored off the main town, Vaitape. Our check-in with the Gendarmerie was the easiest yet. He glanced at our paperwork and said, "Be sure to check out during the week, so you can get your bond back." As if the rich Americans would forget!
Sunday was maintenance day. I thought I would tackle a few small projects so I would feel like I had accomplished something. Well, three hours later, I finally finished three 10-minute jobs! First I lubricated the Y valves in the head. I took them apart and tried using silicon spray, instead of white lithium (which only seemed to last a few days) without success. Then, I tried an experiment using Vaseline on one and KY on the other. We'll see which one lasts. Next,it was on to the saltwater wash-down pump. Just take off four mounting screws; solder new connections and your done. Ten minutes tops right? No such luck. I had to practically get in the locker to get the mounting screws off. Then the wires supplying the power were so corroded (don't ever trust electrical tape to keep out water) that the solder wouldn't stick. I scraped the strands on the wire till the solder finally got the hint. This time I used shrink tube and silicone to cover the connection. After getting the pump re-mounted I tried it out. Air was blowing out the thru hull! Duh, I forgot to turn the pump housing around to work with the new inverted configuration. A few dozen swear words and two hours later, I was done. Finally, as an easy, no-brainer job, I lubricated the running backstay blocks. I noticed that the rope was chafing at the sheave. Because the sheaves don't move much as running backstays, they froze to the pins. This really was a ten-minute job.
We took our bike ashore and rode around town. Sundays are good for bike riding as there is no commercial traffic. Polynesia shuts down on Sundays. We saw lots of tourist traps, bars and hotel bungalows. Bora Bora runs second only to Papeete for tourist amenities. We stopped at the Bora Bora Yacht Club for a beer. This is no Larchmont Yacht Club I can tell you. This is just an open-sided hut serving drinks and dinner. Any attire will do. We saw the same groups of cruisers hanging around together, just like the cliques I saw in high school. Some of us are socially inclined I guess. We made reservations for lunch on Monday. That way we can tell people we had our "Native experience."
I have to plan Amy's birthday on Tuesday. I spent mine at sea. I'll be making reservations at "Bloody Mary's" for dinner and shopping for a few things. Amy was hoping to share the party with the Willy Bolton crew, but they are still in Tahaa. It seems that our friends are behind us now. Who knows what friends we will meet over the next stretch of ocean? PS
Log for the week of August 12, 2001 Bora Bora French Polynesia By APW
Before this trip began, Phil and I spent a lot of time reading logs and books from other people that had circumnavigated the globe. I always felt frustrated not being able to keep the names of all the exotic places straight. Geography was never my forte. Just the name Bora Bora conjured up pictures of savage looking people with pieces of wood and bone pierced through their lips and noses. It was the banished land, the place my sisters and I would be sent to, if we didn't quit our squabbling. It was the place our cauliflower would be sent to, if we left it uneaten on our plates. Think of all the starving people on Bora Bora, my mother would say.
Bora Bora has neither savages nor starving people. It is a bit smaller than the other islands in French Polynesia, in terms of land mass and population. It is quite sandy and dry, comparatively speaking. Fancy bungalow type hotels sprout out veruminously from the most picturesque pieces of land like mushrooms on a log. I had thought these hotels charming, when I saw the first one back in the Tuomotos. Six thousand and forty three palm thatched, piling perched cabanas later, they are definite blights to the landscape. With the tourist housing in place, home-grown activities have sprouted up- providing income for the "natives". Parasailing, scuba diving, "safari tours", helicopter flights, submarine diving, and tours of the island on board jet skis.
We anchored in the usual ninety feet of water off the main town of Vaitape. "Plinky- Plunky" music screamed out of stereo speakers on the shore from traditional palm thatched buildings- structures erected every year for the Haeve festival. We wandered around looking at the shell necklaces and other tourist trinkets.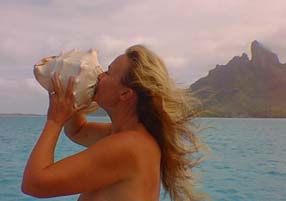 I have a suspicion that these dimestore shell necklaces may one day become very valuable- as I have seen very few, in fact suffice it to say zero, shelled animals anywhere. The half inch sized shells we have found on the beaches have been occupied by hermit crabs. I also suspect that people in their eagerness to collect shells have been taking living animals from the sea depths in order to add to collections and satisfy the hunger of the tourist trade. They may not be extinct yet, but I see danger signs. I am guilty of the sin too, as I paid as much for my "honking horn" as I did for my student grade piccolo twenty years ago. I still can't play a tune on my horn, although I spend many hours at sea driving Phil crazy, like a bad saxophonist tooting away the hours.
Art Galleries, Pareu shops, Black Pearl jewelry shops are on every street corner. We found the internet café- two computers in the back corner of a french pastry shop. Bad news once again for my expanding wasteline. As these are the only computers hooked to the internet on the entire island, one must while away the hours eating, while waiting to post the log or send email. While the others cruisers have become addicted to baggette bread and Hinano beer, I am addicted to espresso coffee and pain choux- a great little French invention. Basically it's a chocolate filled croissant. It can be eaten at any time of day, but is especially good for breakfast.
We have found no movie theaters, but there is a video rental place with DVD's. Funny how we crave movies more than anything else; even more than the Sunday newspaper, magazines and watching Paul Kangas on TV. While we were in Raiatea we had to walk past a particularly magnetic house on the way to our favorite dinner spot. This house was typical of all of the "native" houses. It was a simple house like you would find anywhere in the U.S. One floor, three rooms, tidy yard with American houseplants growing out side for shrubs. The only difference between an American house and a Polynesian house, is that the living room of the Polynesian house has many beds circling the walls. In these beds lie the aging relatives. There are no old folk's homes. The old folks come to rest in the living rooms of their offspring. In the living room is one enormous TV and on that TV the old folks watch movies round the clock. It always took Phil and I six or seven minutes to walk by this one particular house, as they had the TV lined up with the big open window that faced the street. We were glued to the huge screen just like the skinny old in-laws scratched onto their beds- all of us watching the Horatio Hornblower series for several nights running. Phil acted like a shepherd to me, pushing me forward- "Move along now, move along."
We may actually have this DVD movie thing solved. We received email from people, (thanks Barel), but also found out from the very nice couple that owned the Internet café, in Raiatea, that there are six DVD zones. Arnold, thank goodness, does not have hardware preventing him from playing all the regions. Most of the "Name" computers do have a physical block which prevents you from playing other DVD zones. Compaq must not have gotten around to installing it. We got DVD genie installed but could not download WINDVD from the internet as the file was too big. The French couple told us that the best computers are those made by individuals from all the different components. Buying "name" brands has a lot of disadvantages. We got e-mail from Ben that he is now building computers for friends. Heh, heh, heh.
So while all the other cruisers are dreaming of their "next boat" Phil and I are dreaming of the "next computer". I can't believe I am turning into a geek, in Bora Bora no less. Hopefully Ben can send us a copy of WinDVD, once we reach Pago Pago. In the meantime, we can keep un-installing and re-installing the Compaq program, which allows you to set the regions on installation.
Nevertheless, we have been having DVD nights on board Iwalani, where we show our meager DVD stock bought at the yard sale in NukuHiva and supply popcorn and icecream. Yes, the old ice cream maker has been GLORIOUS. I have found a steady supply of UHT cream (Ultra high temp pasteurization, so no refrigeration needed) with a fat content that leaves that yummy feel on the top of your mouth. We make a custard base, flavored with the Tahaa vanilla, one day and the next day, we make a fresh fruit sherbert with the unused egg whites. This hasn't been helping the old girth either. But sitting in the cockpit watching the sunset eating ice cream has always been my idea of nirvana.
Monday was spent writing while Phil set forth to town to do "whatever". We rarely go anywhere without each other, so I was a bit anxious for him. I suspected he was going birthday shopping for me, so I sent him off with a kiss and no further thought. A few hours later he arrived back at Iwalani with cobalt blue eyes. "Uh Oh," I thought to myself. They only get that color when I've done something really stupid. He had gone to town armed with the credit card hoping to get some cash out of the bank machine. He tried several times with several different pin numbers, based on birthdays and anniversaries, not realizing the pin number was a secret one based on my parents phone number from twenty-five years ago. "How am I supposed to know that?" he asked in disbelief. All the attempts had inactivated the credit card. He went ashore again and called the credit card company to have them reinstate the card. I have always handled both of our finances. I try to keep him abreast of everything, in the same manner he tells me about resetting the voltage adapter on the regulator solenoid. Huh? Apparently the card is back in business.
I decided that on my birthday, I would sit in the cockpit and watch the sunset. We have been saving some Woodchuck draft cider for special occasions. So on Tuesday Phil and I, actually sat in the cockpit sharing one Woodchuck and watching the sun plunge down. The view was marred by two large cruise ships, but was still pleasant. Phil was my "slave for the day", which many of you would say is the case every day, but for twenty-four hours it was even more fun. No more need be said on that subject. He also took me out to dinner at one of the few restaurants on Bora Bora- "Bloody Mary's" Yes, I do believe it is the one from the "South Pacific" fame. It was kind of disappointing. When you get famous like that it's hard to deliver the goods, so to speak. The restaurant is a typical Tahitian palm frond thatched roof, (actually as we found out on the Vanilla tour, Pandanus is the preferred roofing material as it lasts longer.) It has sand floors and tables made of palm trees. The chairs are very uncomfortable palm tree stumps, highly varnished; actually, they are probably epoxied. When you enter the restaurant, they take you to a table where all the food for the evening is displayed uncooked. You pick out the kebabs, and fish you want and they grill it up. It arrives minutes later, from a fast moving hustling Polynesian waiter. It was Ok. But not any different from the fish we eat on the boat. Maybe if you are a hotel-bound tourist it would be great. All evening long there were flash bulbs snapping, as all the tourists were getting their pictures taken at Bloody Mary's. Out front is a board with the names of "famous" people that have eaten there. I hate places like that. Who cares if Keana Reeves, or David Rockerfeller ate there? At least you'd think they'd spell the names right. The highlight of the evening was the bathroom. I hate to say it, but it was the only reason to go and spend eighty dollars for a blah dinner. The bathrooms also have sand floors, but the sink is a stone grotto with a ringpull, that swishes water over the rocks like a mini- waterfall. The men apparently have a similar set up, but also get to pee in a trough with a wooden carved penis handle to flush. The real "woody". We will have to remember this Tahitian touch when we re-decorate our house back home.
I had been anxious to take Iwalani over to the Eastern side of Bora Bora, where I heard the snorkelling was great. I had bought a detailed chart in Tahiti, just for that purpose. When I told Phil what I wanted to do, he looked at the chart and said "Look at this 2.2 meters of water and what about here? There isn't ant depth recorded at all, its just white paper." I begged and pleaded for several days and finally he relented. "We will go on one condition, you steer the boat and if we run aground I get to hop on a plane and fly home." 'OK.' I said, 'But how bout if you sit up in the crow's nest as a look out? After all, why else did we build the crow's nest, but to help us steer through coral heads?' "Yes" he replied, "But I didn't actually think we'd be using it!"
So off we went with Phil strapped in aloft, so he wouldn't get flung off the boat like a Lacrosse ball, when Iwalani grounded and the mast flung forward. We tried communicating by VHF, but that didn't work when other cruisers began chatting over us. We motored around the North end past the airport and the fancy barracks left by the Americans and headed for the buoy marking the entrance to the channel. It was easy going as we had eighty-nine feet of dark blue water. Finally we got to the place where Iwalani had to step up, or so it looked and felt- a turquoise shelf of water at the edge of the very deep blue. I began to have second thoughts. We had been in nothing less than forty feet of water since leaving Panama. Stop being a woose I told my self. We had shallow water like this, all through the Bahamas. In fact the water was the same Bahama blue, striped with the cobalt Pacific blue. It was quite stunning. . Two boats were making there way out so I waited for them to go through. According to the chart they weren't following the deepest water. What to do?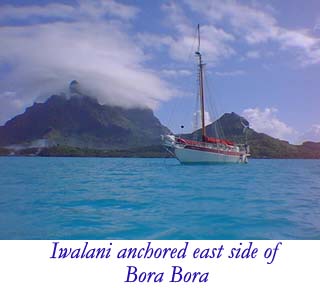 Follow the chart or follow their outward route? "What are you waiting for?" Phil yelled down to me. "Just go where they went". I nosed Iwalani over. Eighty four feet. Seventy seven feet. Seven point two. Yikes the bow was over the shelf. The wind and current were quite strong so I couldn't hesitate and continued on top of the shelf. The depth held steady at 7.2. Now Iwalani draws seven feet of water and as I have pointed out to Phil, who never lets the fathometer get below 10 feet, the transducer is really two feet down the keel, so at 7.2 we actually have a few more feet under the keel.I was just glad he was aloft and couldn't see the depth sounder, as he would have freaked. But oh was it pretty! The motu was to the left and such colors of sparkling clear water. Blue, turquoise, cerulean, colbalt, aqua-green and to the right, the lofty tower of Bora Bora's mount Otemanu.
We motored on and I saw a lovely spot to anchor in the crook of the elbow from the motu Tofari. We had it all to ourselves. This "anchorage" was six square miles of nothing but nine feet of sandy bottom. Further South I saw a nest of masts from other cruising boats huddled together at the Southern end.
A Polynesian came and anchored a few feet away. He was in a Polynesian motor boat. These "homme-bateaus" as I call them, are really quite unique. In the bow is a box where the driver sits.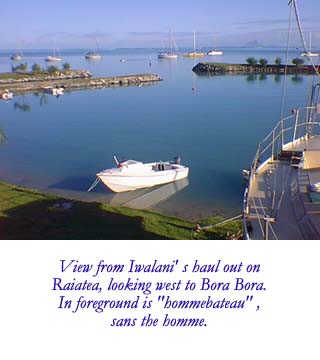 He steers the boat with a joystick in one hand and the throttle in the other. You can only see the driver from the waste up, so he looks a little like a boat centaur. When the Polynesians are in their outrigger canoes, they look the same too. Man melded into boat.
Polynesian men are very good looking. Artists pay too much attention to the women of Polynesia. I can't imagine what Michelangelo could have created if he had been here. Anthropologists ascribe the Polynesian's strong features to their historical diet. Six thousand years ago, Polynesians took to the sea from Melanesia. They brought with them breadfruit, coconuts and taro. Taro is extremely rich in calcium and phosphorous and is grown in much the same way rice is grown. In fact, rice was a weed in the taro fields. Three thousand years ago, the Melanesians went through a famine. They began eating the weedy rice. The Polynesians long since gone with their nutrient rich Taro, grew into a big boned, tall and strong race. Rice became the staple crop of Melanesia, taro in Polynesia.
The driver looked around with binoculars, upped anchor and then left. A few hours later another Polynesian boat came and anchored in the exact same spot and two divers got out and circled around the underside of the boat. Very strange. The water is so clear and shallow that you could read a magazine lying on the sandy bottom. We never could figure out what they were doing.
Everything is clean- no lemon halves floating by, no plastic bottles washed on the shore. In fact all of French Polynesia is that way. When we saw our first Pirau flowers floating by, I thought they were yellow tissues that some careless congested cruiser had discarded in the water.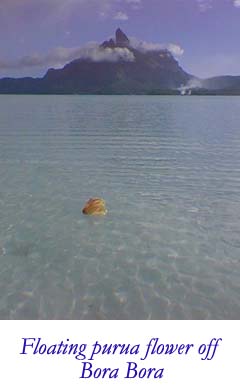 These flowers are yellow the first day, red the second. The flowers are very high in permanganate and are used to treat infections, they can also be used as an antifogging agent when wiped on the inside of dive masks. The inner bark fibers are what the Polynesians used for string. It is also the fiber on the pale grass skirts.
We hopped in the dinghy and sailed over to a long strip of white sandy beach. "Tabu" "Private" said the signs along the beach. We found one part with no signs and went ashore. A ship wreck lay rusting and discarded, so Phil had to check that out. We sailed the Grape back to Iwalani only to find two French cruising boats, anchored a boat length away. I was a little miffed to say the least, that they had to anchor twenty feet from us. What is this cluster mentality that humans have? They could have anchored a half mile away in any direction, but had to anchor within potato throwing distance. Phil turned the engine on, while I brought the anchor in. we were going to move. By the time we were at the end of our anchor, our bowsprit was overhanging the cockpit of one of the boats. I could have popped a grape into the open mouth of the astonished looking skipper. I didn't say anything, nor did I smile, wave, or even acknowledge their presence. Talk about snooty. It will surely add to our reputation. We motored a thousand feet ahead and re-anchored, letting our stinky Uncle Billy G. waft downwind.
It must be tiresome reading of our bilge woes. But this is a smell only Steven King could have conceived of. We must live with it, so it seems only fair you must read about it, if only once a week. While we were hauled out, the bilge dried out and we sort of forgot about it. I did not paint the bilge with anti-fouling paint as I was worried the paint wouldn't stick and we would have flecks of bottom paint clogging the bilge pumps. Once back in the water, the smell came back to life with a vengeance. Phil had re-caulked the garboard and it made Iwalani leak even less. A more stagnant swampgas couldn't be imagined. So, once again we cleaned everything out and this time washed the wood with "Woodlife". The red lead paint is still on the wood underneath the blacky silver film, which is more firmly attached than paint. The "Woodlife" smell is a vast improvement. Our new plan is to flush the bilge every two days with the preliminary water made by the watermaker. This water has gone through two sets of filters, so shouldn't have toredos, or other marine organisms. It is somewhat salty, so won't rot the boat like fresh water would. It isn't harmful to the environment, like all the bleach, pinesol and cleaners I have used to aggravate Uncle Bill. It is water that we throw overboard anyway, so it will now have a good use. Hopefully. (I really do have an Uncle Bill and I hope he realizes the name of the flatulent, petulant Uncle Billy G. is purely coincidental.)
While over on the Eastern side of Bora Bora we drift snorkeled over an amazing coral garden. The coral is the healthiest and most vibrant we have seen. We snorkeled at a spot opposite the pass for pirogues touted for its manta rays. No sooner had we hopped in the water than these huge silent creatures floated under us from the deep. They were thirty or so feet down, mouths open wide, scooping plankton like huge underwater vacuum cleaners. They were just too deep for even me to get safely close to, so we decided it was time once and for all, to dig our scuba gear out of the bottom of the lazarrette. Talk about opening Pandora's box. Somehow, while in Raiatea getting hauled out, the pint bottle of epoxy hardener got punctured and managed to leak all over the regulators, BC's, wet suits and into the box containing the dive computers. The good news is the hardener is water soluble; so we spent one afternoon cleaning everything. Neither computer works completely, although it's not from the hardener, but more likely I got the wrong transmitter for the tanks. Fortunately, I have one analog gauge to measure tank pressure. So with me taking the lowest tank and analog gauge and Phil with the fullest tank and watch style computer which measured depth, time and ascent rate, but no tank pressure, we headed off early one morning to join the rays.
I will admit now, since I finally admitted it to myself, SCUBA diving scares me to death. I have no problem free diving to forty feet but as soon as I get all that stuff on me I have an incredible feeling of claustrophobia. Gauges, gizmos, tubes and valves are not my bag, but I really like going underwater and seeing a whole different world. When I am snorkeling at great depths fish run away. I don't know whether its because I go so much faster snorkeling or what the reason is. I have to constantly tell myself to breath when SCUBA diving, because my habit of holding my breath for long periods of time can have lethal consequences SCUBA diving. While we were diving in Maine, they had to put thirty pounds of lead on me to get me to sink. The lead was strapped around me on a weight belt, with most of it centered over my rear end. Once the tank was added, I floated over back wards like an upturned turtle. Since I am not wearing a wetsuit in Polynesia, I only needed ten pounds of lead, which we strapped on the front, vastly improved my maneuverability. We recited each others social security numbers, went over funeral arrangements, left Stewart with enough food and water until he could get rescued by the Willy Bolton girls and then practiced our diving skills in eight feet of water.
Phil with his love of anything mechanical, is now becoming hooked on SCUBA diving. I have done probably thirty or so dives, over as many years and I still feel like I am wrestling an octopus. Still, it does have its advantages. The fish don't fly into the coral when you get close and to glide along with the rays is like flying with angels in a church.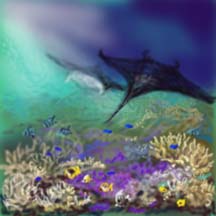 Manta rays don't flap their wings either, it looks like they would from pictures, but what propels them forward is a mystery to me. They adjust the tips of their wings ever so slightly to change direction or turn. They are, as they say- awesome.

Next week we will be heading back over to the town side of Bora Bora, to collect our bond money, re-provision and to get ready for the next passage. Stewart's birthday is on Monday and Willy Bolton and crew are arriving to help the Kitty King Celebrate. A funny thing has been happening to Phil and I. We are getting attached to these other cruisers. All of them, even the chronic money complainers and wind whiners. Even the one's we don't know, because they are usually friends or acquaintances of the ones we do know. Two boats on their way to Suvarov lost their rudders. They are trying to spin their fin keeled boats somewhere near land. Fin keels and spade rudders really don't belong out here. They do just snap off. Once past Raiatea, the next haulout facility is New Caledonia, two thousand miles away. Unfortunately, one of us has been declared missing at sea. The S/V "Sir LaPoint", a single hander who lost his electronics during that storm we had when we were hauled out in Raiatea, was headed into Bora Bora. No sign of him, nor the boat.

We have to get Iwalani and ourselves ready for sea again. Our three months in Polynesia have been very enjoyable, very fattening and a lot of fun. Though still homesick, we are glad we didn't turn around. As my mother once said, nothing worth doing is ever easy. APW

Log for the week of August 19, 2001 At Sea by PS

Our position is 14 46s 157 01w on route to the atoll of Suwarrow, 480 miles east of American Samoa. No wind. Motoring, with the return of boredom. I had forgotten what passages were like, after three months in French Polynesia. Now it's back to the three colors, blue(water and sky), white(clouds and stars)and the black of night. We are reading books and gobbling up words like the noodles in alphabet soup.The small scale chart is on the nav table.The islands are small and the distances we need to cover are large.Our hourly progress is about the width of a pencil mark.

Thanks to radio ham K5SIV,I was able to get a phone message to my mother telling her things are OK.With any luck, we will be in Suwarrow in 3 more days. The sharks are hungry there, so swimming is out. The atoll is a bird sanctuary, so hopefully we will get to see some wildlife. So far on this passage we have seen a finback whale, which looked like a gnarly old log, some seabirds and small Portugese Man of War jelly fish. I hope our minds don't turn to jelly before we arrive at Pago Pago. PS

Log for the week of 8/26/01 Via Inmarsat, Suwarrow Cook Islands by APW

We arrived Aug 22, after 18 hrs of pushing Iwalani at 8.5knots trying to get in before dark. Suwarrow was discovered in 1814 by a Russian explorer, who named the atoll after his boat. There are no tourists, no hotels, no stores. Only an island caretaker named Tom, a native Cook Islander well trained in conservation and land management. Very clear water the color of Berry Blue Jello. Tern, booby and tropic bird rookeries, so-so coral and not too many shells. I did find THE most beautiful shell snorkeling, five inches long conical with white and orange patterns,but the creature was still inside so I threw it back, very reluctantly.The first three days in the anchorage were so windy we stayed on the boat. We have since done some snorkeling which is a bit scary since there are numerous "aggressive" sharks.One cruiser(Peace and Aloha) got their inflatable dinghy chewed up by a shark going after a fish they had just reeled in. No kidding. Another cruiser left two cats off- a mother and her son. The mother was now suffering an Oedipal complex and was pregnant. I spayed her on the picnic table, a first for me and the island of Suwarrow. First time for me doing major abdominal surgery outside my comfy surgical suite on Iwalani. She was up and clawing peoples legs for food a few hours later. We will be here a few days longer, we are waiting for Willy Bolton to arrive with a package we didnt get while in Bora Bora. If possible could someone drop a postcard to the post master in Pago Pago, AS, 96799, telling them sv Iwalani is arriving shortly and NOT to send our packages there back! Thanks! Will update more in the archives.APW

<!END CUTTING AND PASTING BEFORE THIS NOTE!>