WEEKLY LOGS FOR JUNE
This is the log for the week ending June 4, 2000 By APW
According to my father, my last log entry sounded like a bad Country Western song. I lost my dogs, I lost my job, we lost our house. This week is still the same tune, same singer, same song.
We packed and packed and even had our friends Rick and his wife Teen pack and move us from the house into the barn. Somehow, we had only been living here for four years but still managed to collect a phenomenal amount of junk. We have made several resolutions as a result. Firstly, when we move back into a house we will wander around every two weeks with a trash bag. The trash bag will sit for another two weeks in the garage and then will go to the dump, assuming we don't go rooting around in it looking for things. Secondly, we will never give another "thing" as a gift. People will get gift certificates or food, but no more knicky- knack things.
Our house sitters moved in on the first of June, while we were still moving the last vestiges of our life into the barn. Already they have made the house look better. Windowsills are being added and the yucky hollow core closet door has been replaced with a solid door I have been dragging around with me for years. The lawns and fields are getting mowed with care. Hopefully we will be gone before it starts looking too nice and we really regret leaving.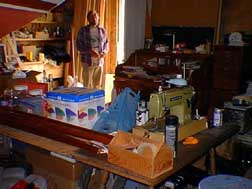 During this move, we tried to sort things into stuff that may be needed on the boat (heaped under Petrel in the barn) and stuff that would never go on the boat(heaped up in the loft). Unfortunately the stuff that will be needed on the boat occupies a space equal to the total volume of Iwalani. Further condensing is still needed. The photo to the left shows our lifestyle in the barn.
It would be much better if Phil and I were the kind of people that only like to watch TV and play golf. That would have saved us from moving art supplies, RC models, books, and hundreds of pounds of electronics projects built by the kids- robots, subs, and the like. My biggest fear is that if we don't make it back alive for whatever reason, my poor sister will have to weed through a ton of artifacts. I can see why people sell off everything and then leave. This way we feel like we still have a 100 ton mooring ball holding us down. Stewart the cat, Larry the canary, Phil and I are otherwise living on the boat. We are all trying to adjust to the downsizing each is experiencing. I come ashore to sort, organize and phone from our "office" set up between the drill press and plywood pile, while poor Phil stays out on the boat building shelves, finishing drawers, hanging doors and scratching his head over the systems he can't get to work.
The biggest headache has been the "Super-Stor" water heater which runs off the wind generator or the engine. The former works fine, but for the last few days we haven't had much wind, so would like to heat water while running the engine. Phil has hooked it up several different ways and is right now working on another- teeing off from a line that cools the oil. We shall see if it works.
The other thing that is not working is the guzzler pump to drain the sink and shower. Both are at or below the water line and won't drain on their own. The pump just slooshes water back and forth instead of pumping it overboard. It will pump the water into the holding tank though, but we don't need the gray water to go into the holding tank. It's a definite head scratcher. Phil thinks the pump is too weak to force water out against the outside ocean pressure. It looks like Petrel's hand Gusher bilge pump is going to be replacing the wimpy Guzzler pump, we'll see if that works any better. (It does!)
The Seafrost refrigeration system has been working great. It too can either work off the engine, or can draw 110 power from the batteries through the inverter. The wind generator also has been working well, when the wind blows. Watching the Amp gauge to see how much electricity is being produced is more fun then watching tv. So far the highest amount seen was Phil's 60 Amps. I have only seen 18 Amps.
One day, last week after returning from work, I arrived home to be greeted by piles of stuff- boxes, trash bags, dirt and clutter. The sky was gray and it looked like we would never be done on time. Out of the blue a client/friend of mine, Jayne Oakes, arrived with a pre-made supper all in paper containers, she came and went just as the clouds broke up and the sun came out. It was very much appreciated and best of all, after eating it all up, there were no plates to move! APW
Log for the week ending June 11, 2000 APW
We are gradually getting things sorted out. The barn still looks like it has been through a food processor, but at least now I sort of know where everything is. Last week just looking for a single pan, or a missing bowl, was a major overland jungle expedition.
We took our first hot water shower this week and it was indescribable. Four sweaty days without being able to clean oneself up was more than I prefer. Phil has done a really great job with the systems. We look forward to really windy days, because they provide free hot water. Once the water maker is hooked up, they will provide free water too. Phil figured out how to tee the hot water tank off the engine- he had to tap a hole from the oil cooler. We run the engine for fifteen minutes every morning and that gives us enough hot water for the entire day as well as cools the ice box down for twenty four hours.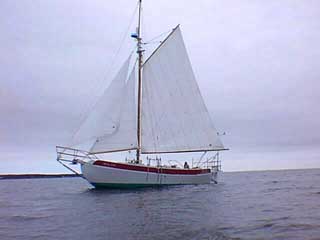 We went for our first sail and Iwalani balances well. She can basically steer herself. Tacking isn't a problem either, but must be done gradually, not by slamming the tiller over racing dinghy style. "Tillie", the antique Tillermaster my father gave us worked very well steering the trim tab, which steers the rudder. Phil had been despondent the last few days over the self steering, after our wild ride out of Robinhood a couple of weeks ago. We had been motoring and the prop wash evidently effects the trim tab to behave erratically. Phil wants to take more metal off the leading edge of the trim tab so the weight goes to the trailing edge. He thinks it is too balanced right now.

We had two horrible days of rassamfrassam language while Phil worked on the cherry trim. It is almost finished and looks very nice. I will need to bung the holes, and oil it. The previously installed cherry is already aging to a beautiful deep red. I will not go near this wood with stain, that would be a crime!

I have been still working on the dodger, main sheet bags and trying to sort out our finances while we are away. In addition to hauling a perpetual pile of trash to the dump, organizing the medical kits and working now just one day a week at the clinic, Ive been trying to organize things in all the lockers and put together b. We got a very nice letter of introduction from the Governor of Maine- Angus King, which we can use in foreign places if we get into bureaucratic red tape messes. It is nice living in a state where everyone knows everyone else. The letter also has lots of state seals, stamps and other red tape cutting additives- thanks Angus!

We have been using the little wood stove night and day. Even though it's been hot everywhere else, Maine is ten degrees cooler than usual. Phil made fun of me for wanting to buy it- "We'll be in the tropics for Pete's sake- what do you want a wood stove for" He has also been the first to light it off each day.

Friday night, Mike Rowland and daughter Shifra gammed up on board "Tamie Norie". He helped send Phil up the mast to re-rove some of the blocks that were backwards. I was too chicken to do it myself. I especially didn't like looking up the mast at Phil standing on the bosun's chair. Mike is a "real doctor" and works as an emergency room physician, so between the two of us, we should have been able to stabilize Phil if he fell! At least now I feel like I can do it myself, it's really know different than my boat, despite the fact that there are no winches. We ended up using the windlass which works well for hauling.

Log for the week ending June 18th by PS

The saga of the bottom paint continues. Monday I spent the day getting out pieces of trim. It was finally time to cover all the raw edges and make Amy a little happier. As those of you who have been following the logs know, I am for function and Amy is for form, which is why we work well together. It's a good balance for the two of us. I also got fingerprinted for my Coast Guard paperwork. I went to the local sheriff department and was introduced to the Booking Officer. As I looked down at the well-worn fingerprinting table, I could imagine all types of criminals standing where I was. That's as close as I want to get to being in their place.

Tuesday we sailed Iwalani to Robinhood Marine. This was the first time Iwalani moved under the force of the wind. The wind was fairly light, 5 to 10 knots, so it was a good time for the initial sailing sea trials. She behaved beautifully!!! The helm was well balanced and was easy to steer. She also came about, which is a good sign when the winds are light. The best part about this trip was my self-steering arrangement worked as I had planned. While I lost a lot of sleep trying to figure out why it didn't work under power, under sail it was doing a better job then I could! Amy said that all the time I had spent over the past two years planning paid off. I have some ideas as to why it didn't work under power. Mostly I believe that turbulence from the propeller was playing havoc with my design. I will make some modifications and let you know next week if they worked.

Wednesday we worked on more trim, as the marina couldn't haul us till Thursday. I also made a contact with the ham radio all the way to Budapest, Hungary. That is the longest contact I have made so far.

Thursday we were up at 5:30 am to make the rounds to buy last minute items. At Hamilton's we had a tough time finding SOLAS flares. It turns out that not all the pre-packaged kits had the same type of flares. After about 30 minutes opening every flare kit they had we found the right ones.

When I returned to the marina I found Iwalani protesting her being hauled out of the water. It seems that when the marina crew went out to the mooring to bring her in, they couldn't get her started. I had run the engine just hours before. They could tell that the engine was warm which only added to their frustration. Finally they had to tow her in. Then as they moved her on land the travel lift began spinning it's wheels trying to get up the hill. After a second attempt she made it. I diagnosed the engine trouble in about 5 minutes. It seems that when I put the new plumbing in for the water heater I disturbed the wiring to the starter. When I started it in the morning the wire most have vibrated loose. I scraped all the loose paint off the bottom. Then I washed off the entire bottom with a wet rag. It actually didn't look that bad. About 10 percent of the bottom paint flaked off.

Friday I decided to try calling the tech support at Interlux to be sure we were doing the right thing. Well, the directions that I got from Barry at tech support were entirely different then the ones from the sales rep. After explaining exactly what the situation was he told us we needed to use Interlux 360r metal primer. That's not what Mr. Wright said. He told us to wipe down the bottom with Interlux 433, thin down the first coat of Micron CSC with 10 percent 433 and re-paint the bottom. I decided to go with tech support. When I asked why his information was not on the label, Barry said that there wasn't enough room to put everything on the can. Now the next job was to find this 360r. After spending an hour on the phone Amy managed to find the only supply in Maine. She had to drive a 2 hour round trip to get it. I spent the rest of the day working on the trim.

Saturday found us wiping down the bottom with Interlux 216 and painting with 360r. We had to quit after the first coat because of a line of thunderstorms. As we were the tallest thing in the boatyard, Amy thought it would be a good idea to take cover elsewhere, so spent the time in the yard library. By the time the storm ended it was time to take Amy's car to Gorham. We finally sold it, but for a lot less then we hoped for.

Sunday morning Will Ansel came by with the spice racks he built for Amy. She's happy. Will is probably in is 70's. He had planned to sail a small sailboat he built across the Atlantic two years ago. When his kids found out they talked him out of it, so I decided to invite him to crew with use from the Canaries to Tobago.

We put the second coat of 360r on in the morning, but our plans of getting a coat of bottom paint were dashed by some afternoon rain. I worked on the trim tab while Amy worked on the dodger.

We are now at Rick and Teena's enjoying a great steak dinner. We'll e-mail the log to our house sitters and then I'll try talking him though the up-date process over the phone.

By the way, this will probably be the last long log for a while. The Inmarsat-C costs will limit our ramblings. Oh yes, for those of your who would say "It most be nice" remember this. Right now we are living the equivalent of a second floor apartment with access by the fire escape and no working toilet! PS

Log for the week of June 25, 2000 by APW

We are finally back in the water after one week re-doing the bottom paints. Hopefully it will work this time.All done according to Interlux specs.

During the drying time between paint coats we loaded and stored Iwalani with the groceries I had ordred from Shaw's, worked on building shelves, bookcases, screens (all trim to Phil).

Treated my last Maine patient-a snapping turtle with a de-gloving injury to her shell. She lived in the cockpit until I finally succombed into putting her to sleep.

Ben arrived yesterday. New crew member, Justin arrives tomorrow. Nathaniel staying in Geneseo NY.

Heavy weather sea trials today. Boat behaved well but lightening rod loosened up and I was terrified of being impaled should it fall down. It didn't. We hope to be in Penobscot bay at the end of the week. With expected deparure date to the Azores weather pending.

<!STOP PASTING NEW LOG BEFORE THIS NOTE!>